Design Supernova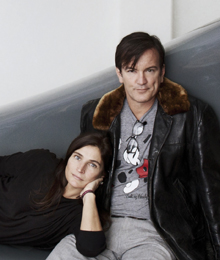 Before a basketball court on a roof of a five-storey home in Lower Manhattan could echo its first slam-dunk, a building in a parking lot was knocked down so that a crane could hoist the quadrangular concept onto the structure's crown. The ambitious project was coined by an eclectic pair of New York-based designers and lovebirds, who gutted the former gun-shop to make room for a renovation of rustic finds, Grecian floors, French doors and their fledging family of nine. Successfully flipping properties for exorbitant profits is nothing new for reality TV stars Robert and Cortney Novogratz, who have re-nested five times in seven years. They have since transformed a motorcycle garage into their new home, an über-hip yet kid-friendly townhouse that doubles as their office. While the lens of a camera has catapulted a family of unique proportion into the public eye, it has also captured the true essence of what it takes to turn a house into a home. It's an essence that transcends great design and focuses on the art of parenting. "Cortney and I love each other, and we love our kids, and I think that is the most you can give to a child: a happy household," says Robert, 48, on the phone from Manhattan.
The avant-garde guardians, who have been married for nearly 16 sweet years, are parents to seven humble yet hungry children (Wolfgang, 15, twins Bellamy and Tallulah, 13, Breaker, 11, twins Five and Holleder, 6, and Major, 3), authors of Downtown Chic, and hosts of their second reality makeover show Home By Novogratz (HGTV Canada). "Make time for everything, even when it seems impossible," says Cortney, 40, who was recently filled with worry after daughter Tallulah broke her leg in a skiing accident. While the cliché easier said than done seems to resonate here, somehow the Novogratzes are doing just what they say. "We usually always have dinner together … Cortney is not a great cook, so we have a lot of hamburgers and chicken and pizza and pasta and Mexican dinner. It's not that extravagant," says Robert, who tries to keep things as authentic as possible with his kids, despite a lucrative run in real estate. "You see a lot of bratty Manhattan kids and I would never want my kids to be like that … We don't drive fancy cars or wear fancy watches," he adds. Instead, the Novogratzes aim to live within their means, investing in education and travel. "You can be friends with your kids, but you also have to be the parent. They have to respect you."

During a summer getaway to their vacation home in Brazil, the well-grounded family put their heads together for a fun project: they built a tree house that the kids helped design. Robert and Cortney, whose careers in design were spurred by both their parents' love of antiques, are careful, however, not to dictate the destiny of their kids. "What we say is it's about exposing them to as much as possible … if they don't love it, don't shove it down their throat, but expose them and then you kind of figure out what the like, and you know what their competent at, and then maybe you can navigate them towards that sea." This passive-aggressive approach helps the parents manage a hectic lifestyle, which in turn allows them to grow from the inspiration their children exude. "The youth keeps you young and relative … they are really just always fresh with new ideas."
With a full house, a busy working schedule and no live-in nannies, the couple places a definitive emphasis on taking the time to enjoy each others' company and qualities. While a bohemian-chic Cortney credits her husband for teaching her how to laugh and live a big life, Robert admires his wife's optimism and sunny disposition: "I think that's a nice person to wake up to in the morning."
Following the success of their first breakout reality show, 9 By Design, the Novogratzes draw their impressive portfolio ahead with Home by Novogratz, which showcases renovations to the Fred Segal store in Los Angeles, a high school gym owned by Paul Pierce and a hipster pad in Brooklyn. Their first home décor product line with CB2 is expected to debut this fall in Canada.
Redefining the meaning of design with their distinct ideas and execution style, Robert and Cortney's design coup d'etat is taking cues from the outdoors and reflecting them in the home's interior. They then scour their art collection to find a unique piece to enhance their design sensibilities. But while they explain that a fresh coat of paint, unique light fixture, memorable piece of furniture and a brilliant piece of art are essential to pulling a room together, when it comes to holding a family together, a clear blueprint and stable foundation are key. "I try to be kind and caring and empathetic to other people, and also independent and accomplished, so that my kids will see that you can be anything you want to be," says Cortney.
www.thenovogratz.com