L'Oro Jewellery & Linde Werdelin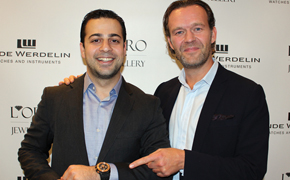 A tribute to quality and innovation was held at the Vaughan Mills Mall location of L'Oro Jewellery on Oct. 20, 2011. The exclusive event drew watch collectors together to preview the latest from luxury sports watchmaker Linde Werdelin.
Recognized for carrying quality niche brands, L'Oro storeowner Haigo Derian expressed passion and excitement over the latest exclusive partnership with Linde Werdelin, a brand that fits L'Oro's views on quality performance. "The basis of this brand is a philosophy that has no compromise. The micro-machining on the product is incredible, and what makes the brand special is how niche [it] is. Last year, there were 400 units manufactured, and this year, we're looking at about 500 – and everything manufactured is sold."
The collection of pieces included the sophisticated White Watch timepiece and the evolutionary SpidoSpeed Chronograph, with the brand's co-founder, Jorn Werdelin, on hand to answer questions about the vision and driving force of his brand. www.loro.ca
Photos: L'Oro Jewellery storeowner Haigo Derian with Linde Werdelin co-founder Jorn Werdelin at an exclusive in-store event; The White Watch offers three different time zones and a bi-directional 24-hour bezel; The SpidoSpeed Chronograph pushes the boundaries in design and construction.