Q&A: Chantal Kreviazuk and Raine Maida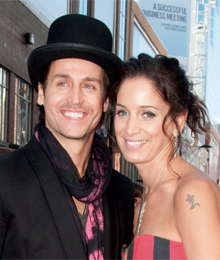 The insight of a musician is often nuanced by a lyrical approach, with words tumbling into themselves to uncover unspoken thoughts. Times that by two, and an engaging interview with Canadian singer-songwriters Chantal Kreviazuk and Raine Maida transpires. Married to each other and to their craft, the pair has hits like Feels Like Home, Surrounded, Clumsy and Somewhere Out There between them, but the soundtrack to their lives isn't solely based on music. With Kreviazuk planning her next album, and Maida releasing his upcoming solo and Our Lady Peace records, the two somehow hit a high note in other areas of their lives. Balancing studio time with three kids and an innate approach to philanthropic endeavours, Kreviazuk and Maida have the synchronicity and grace it takes to turn the ugly into something beautiful.
SP: As Canadians and co-writers of I'm Here (A Song for Canada), what emotions are you feeling?
CK: It is romantic. I get to do something special for the country with my husband. Raine and I have really gone through this life and career and kind of paralleled our artist lives together and separately, so to me [the song], is really authentic, lovely … a challenge to have together.
SP: Chantal, what has Raine taught you about music?
CK: Raine has taught me not to be impulsive. Because he is by nature more of a critical thinker than I am, and I am more to act on emotion. That is the nature of my personality and that tends to sort of slip into the studio, as well as the writing process. Raine will be a little bit more effective by you know, thinking about it longer, reflecting a bit more. He will also implement something ironically more theoretical than me – even though I'm classically trained. He's helped me get better and better as a writer and as a musician.
SP: Your turn, Raine.
RM: This isn't a cop-out, but, pretty much the same thing. Because what happens when you are working with someone else or writing for someone else, I find it much easier to be that person that is kind of pushing. When you are writing on your own – not that I get lazy, but I do – it's pretty easy just to be in the moment and think, 'you know what, that felt great, sounds amazing, done.' But it usually isn't. So Chantal, she fills that same need. That's why our partnership as writers is so amazing, because we are able to have it start from a seed that is really pure and genuine; it is never forced.
SP: Have you ever seen insanity where you later saw creativity?
CK: Some of the things that I think we have both written about, separately, together, has come from chaos. There is no manual for life, and our relationships derive from worlds colliding, whether it's from your own parents or the relationships you make in school that might last a lifetime. We are all sort of from our own little planets and the stories come from those relationships, and all of a sudden you have these stories of life. I think that everything is that strange, organized chaos that we all live. I can look at so many of the songs that have designed my life and my career, – or just the songs that I have loved – if you find out the story of them, they come from a place of disarray or adversity … There is strangely an incredible beauty and creativity that will come from a lot of ugliness in life, things that you would not invite into your life, you know?
RM: I don't know if I've ever written a song when I'm just feeling happy and sitting around just enjoying life.
SP: Is there an experience that has affected your songwriting?
CK: I lost a friend of mine to suicide and I, in my own family, have had a lot of adversity. There is a member of my family who has struggled with emotional, mental, behavioural addictions, and that has really defined a lot of my life and who I am. And I think, while it has been a really tragic thing to witness and be a part of, it has also shaped a lot of compassion and understanding and insight I have in life and people … I lost my cousin who was my best friend and she was only 36 when she left her two and four-year-old children behind. These are just three examples of what has made me tick as a human being, every single day.
SP: When was the moment that you decided to dedicate yourself to philanthropy?
RM: I think it was because of the people. I joined Amnesty [International] and Green Peace when I was growing up, and coming out of Peter Gayville concerts I learned about those things, from U2 as well and REM … those bands who were socially conscious back then. But you know, when we got a chance to meet and travel with Samantha Nutt from War Child Canada – first trip we did Iraq – you kind of see the inner workings of a very grassroots Canadian [non-governmental organization] and it's like, it was the beginning and the end of us searching out any other NGOs because that relationship, the fact that it is so transparent and Canadian, and you get to know all the people that work there and see all the programs first-hand. The program we started in Darfur (Sudan) is still up and running, one of the few that stayed around, even though the awareness has kind of dropped on Darfur, obviously genocide really hasn't.
SP: As a public figure, do you feel you have the responsibility to give back?
RM: I don't, personally. I think as Canadians we kind of do. It's kind of this intangible. When you think of Canada, it's always had more of that in our blood and social fabric than other countries.
CK: When you become an artist of relevance, all of a sudden, wow, the requests come in: 'Hey Raine, hey Our Lady Peace, do this'; 'Hey Chantal, can you come out and help us?' Nobody has to say yes. You don't have to, there is not a law … But for me, I was fascinated and engaged from the moment my career began and again, a really defining moment [was] Samantha Nutt coming up to me at MuchMusic when I had just started and had my first couple of songs. She presented herself and her school and her beauty and her interest in healing to me and for me, gave me an opportunity to manifest all that skill set that had been implemented from when I was very little. So, you know for some people it's just yeah, I'll show up and it's natural. But I believe it's something that comes from a whole lifetime of experience.
SP: What do you hope to teach your children?
CK: I hope being a model, because it's not something you can say, it's who you are and the trip you take, and it's the knowledge you share with them day-to-day that will create that compassion or not. I can't tell them to do it, I have to be doing it. For us, that's what we do.
SP: Do any of your kids (Rowan Michael, 7; Lucca Jon, 6; Salvador (Sal) Daniel, 3; display musical talent?
RM: They all take music lessons … they have a teacher.
CK: I do a lot of work with them in the music room though, and then try to kind of, like, forge through with their teacher, you know. Their teacher brings in his own kind of curriculum and then I say, 'Well hey, they are really interested in this song of Raine's right know and so we kind of work with him. They do singing, piano; they write songs already. Our children are writing songs. I wasn't writing songs at this age so it's actually incredibly inspiring and exciting to watch.
RM: It's important to note that our expectations are nothing further than that they have music as a vice or tool. It will be, I think, a lot cheaper than Prozac in the end. We're not trying to start a little band or anything like that – it's just something I think they will value throughout their lives.
SP: Were your parents involved in music?
RM: My dad loved Elvis, so I, you know, when I think about music, to me when I was growing up it was watching old Elvis movies.
CK: My family was very musical. In the old farm house of my father's, there was a 100-year-old piano and we'd gather around it – all the 60 cousins because my dad comes from a family of 12 kids – and we'd always play the piano … My grandparents played the piano, they played the violin and the harmonica together. It was very normal for me to sit on my grandpa's lap while he played the violin … I feel like Raine and I are this incredible manifestation of my grandparents playing music together … They were great players, and I think it probably very impacted me as a kid.
SP: Raine, how do you respond when people label your music as cryptic and poetic?
CK: I agree, I'm always saying, 'What is that about, honey?'
RM: I think it is just a reflection of my personality, I am definitely more introverted and analytical … In some form, I think it gives my songs longer shelf life … it is not just put out there for you. I think with a lot of the songs I grew up loving, I didn't know exactly what they were talking about and you could make it feel like it was integrated into your life and taken on as your own thing, you know. A lot of pop music just lays it all out there and you kind of know what it is and you either like it or you don't and you can be over it once the song is over.
SP: Who's is your favourite artist or a song that you like?
RM: Probably "The Unforgettable Fire" by U2. I always thought that, even if you look at the record as a whole, that was one of the defining records for me growing up. Because it just had this colour to it and this majesty but I really didn't know what it was about. I just took these moments that kind of related to me, you know.
CK: Umm, a favourite song, You know what, that is a really tough one for me. In this moment, I am going to say umm, how about…how about "Gypsy" by Fleetwood Mac I don't know why I am saying that, it is a favourite song of mine, it moves me, it's a bit dark, the instrumentation, the production, Stevie Nicks, you know its one of those songs. It has a lot of meaning to me, because my cousin introduced me to Fleetwood Mac before she passed.
SP: What's your day-to-day life like?
CK: Raine?
RM: The truth is, music kind of is every day of our lives. We are working on so many different projects, we are always working on our own projects – right now we're three quarters of the way done through an Our Lady Peace record, my solo record is pretty much done, Chantal is thinking about doing a new record, she's [done a live symphony record] and an HBO [Canada documentary]. And all these other projects that we are developing and writing songs for other people, it kind of is always music in a way.
CK: But then, where the kids are concerned … now from the mother (laughs).
RM: It's important to know we work at home
CK: Oh my god, yes.
RM: Whenever we're in the studio it's not like we're in downtown L.A. or someplace up north in Toronto, we are at home and our kids have total access to us.