David Rocco: All in the Family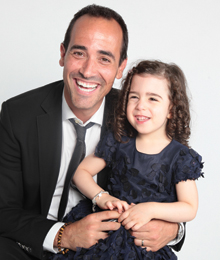 It's one of those dog days of summer, when humidity is hard to deal with and precipitation doesn't help your case, that celebrity chef David Rocco arrives at a Toronto studio. He's breathless and clammy after having had to circumnavigate a tricky maze of staircase and hallway before reaching his intended destination.
Slightly dishevelled but intact from his journey, Rocco reminds us that sometimes life isn't all apple pie and sunshine – even if others wistfully think you're living the sweet life uninterrupted. "Are you kidding? Yesterday, on my birthday, I had one of the toughest days at work – we're doing a new series – and there were some issues that came up. I have a business, a production company, and like any entrepreneur or business person, you have challenges," says the eponymous host and producer of David Rocco's Dolce Vita. "Nothing's easy. The harder you work, the luckier you get. And it took some time for me to realize that."
Before flipping the page to a new calendar year that will take him to South America to begin filming David Rocco's Dolce Brazil, Rocco is looking forward to a different kind of adventure. He and his high school-sweetheart wife, Nina Rocco, are expecting their third child, a boy, a sibling to their twin daughters Emma and Giorgia, 3. Having waited a long time to be father to a growing household, Rocco knows that the family who eats together, stays together. "At the end of the day, no matter how good or bad work is, it's only television, it's not a big deal. Nothing seems to be a big deal when you look at coming home and seeing your kids. They're my heroes, they're my inspiration, my love." And for Rocco, motivation embodies the sweet life. As if on cue, his girls burst into the studio, shrieking "Daddy!" as they race to their father for a hug. Ever their father's daughters, the girls shyly respond "risotto" when asked what their favourite dish is. "They're deliciousness," he smiles, adding that he hopes nothing more than his children to grow into compassionate, independent adults. "My legacy is my kids. Everything else is gravy."
With hectic schedules, the Roccos know a thing or two on teamwork to achieve their dreams. "I took a backseat to the show," says Nina, who co-produced Dolce Vita before the girls were born. With Rocco completely consumed with production, Nina stays focused on the children and the plans surrounding a new home in Toronto they will soon move into. "I don't know how we could have achieved or attempted to achieve these things if we didn't divide and try to conquer," says Nina. Exposed to the beauty of travel and delicious food during gastronomical journeys with Rocco, Nina certainly has had a taste of the good life. But when you ask her what's most important, she takes a page from her husband's book. "I say family. The other stuff is very nice, but the best production is Giorgia and Emma and now … I don't have a name yet. We've been calling him 'baby boy.'" The new family addition is due at the end of November.
These days, Rocco is relishing in some much-deserved family time after flying back and forth between his Toronto home and New York for a developing series, and to appear as a guest judge on Iron Chef America. Not just yet, Rocco will return to the U.S. in November for a promotional tour on his second upcoming cookbook – "We're very proud of it, it's a continuation of our first book, which was a Canadian bestseller" – Made in Italy (HarperCollins Publishers Ltd.). As well, Rocco spent most of this summer in Italy on the series David Rocco's Amalfi Getaway, which is scheduled to debut next year. And if you're not someone who's patient, you can catch Rocco in November as he joins his colleagues in the Chef's Challenge, a cooking combat to raise funds for Mount Sinai Hospital. With so much on his plate, it's easy to see how deadlines and the stress of undertaking new projects adds up. "Behind the scenes, I work 18 hours a day. And it's great because I think working that hard really grounds you and lets you appreciate some of the sweeter things in life. It sounds glamorous, and it is, but … I go away from home and miss my family … it's difficult."
No stranger to working just as hard as the second time, Rocco doesn't take shortcuts to the top. "Our new series in the U.S. is just as hard to get off the ground, you think it gets easier? Our second book? Just as hard. Our first book [David Rocco's Dolce Vita] was so successful, that there was this nervousness, this anxiety, of how do we top this? So I had to work harder, I had to push the team to do better, the photography had to be better, which was a tall order because our first book was so nice. And I see that in almost every aspect of my life – I have to push myself."
If you've ever tuned into David Rocco's Dolce Vita, you've seen how Rocco courts the Italian countryside for local produce and original recipes, and just as he does in his day-to-day, enjoys espresso breaks with friends new and old. He knows that there are those that view him as living the carefree European lifestyle in Toronto, but just as others have  to sweat to climb ladders, Rocco's right there with them. "I just turned 41 and to me it's the best time of my life because I realize my potential now – 10 years ago I was not completely aware of the work ethic that needed to be brought to this stage or to life in order to accomplish things. It's funny because I'll go to the office at 6 a.m. and have a coffee break at 7:30 and then back to the office at 8, and people will see me with my coffee and say, 'Ahh, la dolce vita.' And I just smile and say, "Hey, it's not bad."    www.davidrocco.com