Acheson's Gifts & Decorative Accents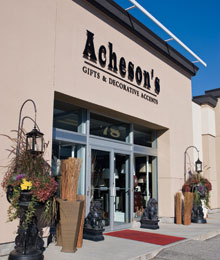 The royal wedding may be unfolding across the pond, but Orangeville, Ont. is closer to Britain than you think. You can thank Dianne Acheson for that.
Her eponymous boutique will lavish guests with all-day tea, finger sandwiches and scones as it broadcasts the elaborate nuptials of Prince William and Kate Middleton in the wee hours of April 29.
Not on the guest list? Watch history unfold at the Orangeville location of Acheson's Gifts & Decorative Accents as it hosts a royal wedding get-together on April 29, starting at 5 a.m.
The perfect setting for a momentous union, Acheson's Gifts & Decorative Accents is replete with British-inspired vignettes and Union Jack home décor; seafaring pictures and equestrian accessories – all discovered by the discerning eye of Acheson. A stylish entrepreneur with her vision set on rare finds, Acheson, 64, is excited to celebrate this generation's most significant nuptials with her mature and kempt crowd of loyal clients. "I remember getting up to watch Princess Diana's wedding – it's just a fun thing and women love to do it," says Acheson, who encourages everyone to join the festivities in pajamas.
Known for her welcoming, gregarious nature, Acheson's warm energy reflects off the delicate dishes, darling baby clothes and fine women's clothing of her 2,600-sq.ft. shop. A department dedicated to timeless British keepsakes and home accessories makes English elegance accessible, which, according to Acheson, is a coming trend that will feature across catwalks and home décor.
A crown jewel in the midst of big-box stores in Orangeville, Acheson's has evolved from a small gift shop in the corner of a Harriston, Ont. pharmacy into a second location and recipient of two CGTA Retailer of the Year awards. "It's difficult to find something in retail that's different. As an independent retailer, I have the advantage of zeroing in on something and making a quick decision."
www.achesons.ca
Other Store Favourites
LE Gallery: If life is your canvas, LE Gallery is your palette. With pieces featured at exhibitions in New York and the Museum of Contemporary Canadian Art, LE Gallery stirs Toronto's art scene with the modern masterpieces of up-and-coming artists. www.le-gallery.ca
Per lui: Suit up in style as you celebrate special occasions. Leading the competition with its long-standing reputation, Per Lui offers designer brands, made-to-measure suits and more, for him. www.perlui.ca
Cupido: The headquarters of luxury jewelry rest at Cupido, where brands such as DeMaria, Scott Kay, U-Boat and Hermès turn a local shopping experience into a grand global adventure. www.cupidodesigns.com