Dragon's Den's Brett Wilson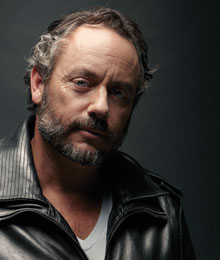 ''With great power comes great responsibility." The first time I encountered this phrase I was seven years old with my nose buried deep in a Spider Man comic. At the time, I had absolutely no idea what it meant, just that it sounded pretty cool. Indeed, power tends to corrupt and absolute power corrupts absolutely – guess that's where the responsibility comes in. There are many men tempted and corrupted by the seductive allure of financial conquest and the power it brings. Entrepreneur and television star Brett Wilson once walked this dangerous path, but unlike his ferocious fellow constituents, Wilson has evolved as an individual and become a beloved and big-hearted philanthropist known for his generous exploits and business prowess.
Today, Brett Wilson is a highly successful Canadian entrepreneur, philanthropist and all-around good guy. He's the business mogul who co-founded both Wilson Mackie & Co. and FirstEnergy Capital Corp., making millions off these highly successful entrepreneurial ventures. But it wasn't until he joined the cast of CBC's Dragon's Den – currently the highest-rated Canadian entertainment show on TV – that he became a household name. His kind yet confident persona has made him a fan favourite, dishing out more deals than any other Dragon on the show. The multitude of business offers he so generously tenders stems from his good spirit and desire to empower, as he wants to provide more than just cold hard cash.
"It's not expensive. It's empowering," says Wilson. "We should be doing entrepreneurship in a more philanthropic way … I put value on changing people's lives." With a welcoming smile, Wilson goes on to explain how his $5,000 investment in an "Elvis costume" company tripled its annual income, bailing the previously ailing entrepreneur out of Heartbreak Hotel. "She's moved her sales from $50,000 to $150,000; two part-time employees to two full-time employees. She's changed her life. Five grand, and a little exposure on Dragon's Den. Didn't cost me a lot."
But Wilson's generous ways are not necessarily a risk. In fact, the Elvis costume business has been just one of the many diamonds in the rough he has uncovered and cashed in on. "Anything you do from a sense of opportunity, you're going to do differently. I see corporate social opportunity, in other words, corporate philanthropy, as an incredible opportunity to change the world … The opportunities are so many, I find amusement when I hear people say, 'Oh yeah, but with great wealth comes great obligation.' No. With great wealth comes great opportunity.
This ability to sniff out gifted entrepreneurs and "great opportunities" has been a key to his success. But for those looking for a quick handout, be wary: Wilson doesn't write cheques for just anybody. He hunts for individuals with that certain business sense; that entrepreneurial savvy that few leaders possess, even those from charities. "I took a chance on people. That, I call, socially responsible investing, or philanthropic entrepreneurship. The flipside, which is my passion, [is that] I'm encouraging charities to think more entrepreneurially. So, I call it philanthropic entrepreneurship, but there's also entrepreneurial philanthropy. In other words, charities not just saying, 'we're a good cause give us the money.' No, no. Show me why and I'll show you the money."
Wilson is a wanderer, testing his foot in many pools. He owns stakes in a range of successful businesses, sports teams as well as a multitude of charities, including Little Warriors – an organization that strives to prevent the sexual abuse of children – and Boomer's Legacy – an organization named for the late Cpl. Andrew James Eykelenboom that provides aid for women and children in Afghanistan. Going one step further, Wilson recently joined Canada's Minister of National Defence Peter MacKay in Afghanistan, touring military bases and giving the troops his thanks. "Someone jokingly called me a serial philanthropist, where I work with a cause and move on," laughs Wilson, who's climbed Mount Kilimanjaro twice, once raising money for Alzheimer's disease. "I find causes that resonate with me and there's no simple answer. People keep asking me what is my criteria. I don't have one. It's clearly annunciated but it's something that has to catch my interest."
Although Wilson has become a great success today, he once scorched a self-destructive path that distanced him from family and friends, and saw the end of his marriage. "Anyone that puts a single-minded devotion into business without balance jeopardizes other relationships, whether it's family or friends," Wilson recalls. "Certainly in building my business, building my career, building my wallet, I didn't see a lot of my family. And the harsh reality came along, and suddenly they [his children] started leaving home. The good news is they were still in middle school when I had the epiphany and chose to put a focus on getting some time with my kids."
Unfortunately, it wasn't just his family life that was affected; his personal health became a casualty of his relentless business crusade. Soon after his divorce, Wilson was struck with a tragic blow, being diagnosed with prostate cancer. But his iron will, steadfast determination and "mental toughness" gave him the strength to forge ahead on this perilous journey. Conquering that ominous obstacle, Wilson rejects being labelled a "survivor." He prefers the term "cancer graduate." "If you come out alive you're a graduate of the cancer program, because there's so much that you learn," says Wilson. "Cancer gives you an opportunity to re-evaluate your time, your commitment to your physical health, your emotional health, your intellectual health. As you come through cancer, you're bound to be smarter on all of those fronts. I think the concept of a cancer graduate is more empowering."
Through both a disheartening divorce and graduation from a life-threatening disease, Wilson has gained a new perspective on life. He's not looking to make another million, pass on a legacy or build an empire. He simply wants to make the world a better place. "No act of charity is too small, so you never belittle any action of any kind and always encourage any action."
A practitioner of "pay it forward," Wilson doesn't want you to compare your deeds to his. The sheer fact that an individual takes the time to make a difference is what truly matters. "I don't have to work full-time, I can do this stuff. Other people, when your working full-time with the family and three kids, you know what, spending the evening cleaning up a local park or taking your kids to an old folk's home on a Sunday morning to read or play checkers, those all count, they all count. I'm impressed by people who take time."
He's now a man of simple tastes. A man who enjoys the odd horse ride across the Prairies, playing with his dog Maja and spending time with his family, who he is so proud to see walk their own path and traverse the world on their own accord. "A lot of billionaires, a lot of wealthy people, see the legacy of their name continuing, their empire growing and the family expanding with this great wealth. I don't buy it, I don't get it, it doesn't make sense to me," divulges Wilson. "I shouldn't impose upon them [his children] to look after the wealth I've made, they've got their own lives. Isn't that why I created them? I didn't create them to by my tools, my employees, my legacy – they are my legacy, but they don't have to live my life."
As any great man of action, Wilson has seen his share of ups-and-downs. He's amassed a great fortune, but more importantly he's found happiness through helping others. "Wealth and happiness don't go
hand-in-hand – it's nice to have wealth, but it's much nicer to be happy." I guess power doesn't always corrupt.
*Shortly after this article was published, it was announced that season five of Dragons' Den (CBC) will be Brett Wilson's last.