Canaroma Grand Reopening in Vaughan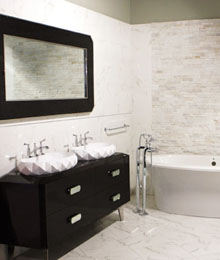 On July 7, 2010, one of Canada's leading tile and bath importers hosted an extravagant party that rivalled its dazzling products. Hundreds of guests joined Canaroma's massive celebration of its substantial showroom expansion and brand new kitchen and tile lines at its flagship location in Vaughan. "We've been around for many, many years and the name has been very successful and I think our customers deserve this as an appreciation event," says Anthony Piacentini, Canaroma's sales and design consultant.
Guests clinked glasses after Mayor Linda Jackson cut the ribbon to commemorate the grand reopening of Canaroma's 19,000 sq. ft. centre. Several bars were stationed throughout the mammoth showroom, serving delicious drinks and graciously sized appetizers to the guests and industry professionals in attendance. Entertainment was abundant with live shower demonstrations, a clever magician and even a cigar rolling station. "We're really excited. We put a lot of time and effort into expanding our showroom," says Anthony.
In addition to adding a remarkable kitchen section and tile gallery, Canaroma introduced several new brands to its already extensive list of high-end manufacturers. "We took on two new exclusive tile lines, Porcelanosa and Iris Ceramica, which are two of the top ceramic tile brands in the world," says Canaroma president Frank Piacentini. The company also introduced Vincent Kitchens and Design, Snaidero and Clive Christian to its kitchen collection. "We always try to bring in things that nobody else has," says Roy Mancini, Canaroma's director of sales.
With more than 25 years of experience in serving customers in the bath and tile arena, Canaroma is proud to be able to offer clients an even wider selection. "There's something here for everyone. You have to come out to our showroom to see what we're talking about," says Vanessa Piacentini, Canaroma's interior decorator and tile coordinator.
905.856.7979
www.canaroma.ca
7979 Weston Rd., Vaughan, Ont.