Female Oppression in 2010 — The Voice of the Voiceless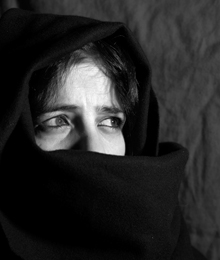 [UPDATED]
Once upon a time, a princess and her prince lived in a high tower. Then reality arrived with a forceful push, felling the princess to her battered knees. She held her bloodied head up, her gaze in the looking glass reflecting the scars of a hostage.
Shackled by custom or written law, women and girls around the world continue to live in a dark, controlled existence that is often ignored.
From Colombia to Tajikistan, Saudi Arabia to Haiti, the fairy tale of thousands of women is to embark on a flight to freedom – the right to vote and drive and walk down the road without fear of being raped or sexually mutilated or burned or murdered.
These basic rights of life are unattainable for women living in climates of female apartheid, where men continue to dominate. "When it comes to beating women or raping them, that's not culture – it's violence," says Marianne Mollmann, advocacy director of women's rights at Human Rights Watch.
Protecting human rights worldwide, Amnesty International reports that high levels of sexual violence are common in the Eastern Congo, while in Chad, women and girls face rape both inside and outside refugee camps. Bruised and beaten, women in Papua New Guinea have nowhere to turn; government inaction has resulted in a lack of women's shelters. According to Security Council Resolution 1820, between 250,000 and 500,000 women were raped during the Rwandan genocide; 20,000 – 50,000 were raped during the war in Bosnia and Herzegovina in the 1990s. "Sexual violence in conflict zones is indeed a security concern. We affirm that sexual violence profoundly affects not only the health and safety of women, but the economic and social stability of their nations," former U.S. Secretary of State Condoleezza Rice told United Nations Security Council in 2008. The presumption that women bask in equality in the West is debatable – in Canada, a country that leads in the protection of women – many Aboriginal women end up on milk cartons or in morgues. According to the United Nations, anywhere between 113 and 200 million women are "demographically missing" from our world, which paints the disturbing picture of a declining sex ratio and an ever-present patriarchal resurgence. "Violence and discrimination against women takes place in every country and every society around the world. No country is immune," says Lindsay Mossman, a woman's human rights campaigner for Amnesty International. "The reasoning behind this comes from the conventions for the elimination of discrimination and violence against women from 1979, and in terms of international standards such as that one, we recognize that violence and discrimination against women is a result of unequal power relations between men and women," says Mossman. Indigenous women in Canada are five times more likely to die from violence, reports Amnesty International. The non-governmental organization recently completed its global "Stop the Violence Against Women" campaign, a six-year-long effort to highlight discrimination against women in the law or in cultural practices.
"When it comes to beating women or raping them, that's not culture – it's violence." – Marianne Mollmann
In 2004, an Australian woman named Jennifer Birrell moved to Saudi Arabia with her husband, an Australian citizen with a Saudi passport. Two and a half years ago, she tried to leave when her husband attempted to kill her, she alleges. She says her forehead bears witness to this charge: he bashed her with a candlestick. As the largest Arab country in the Middle East, Saudi Arabia continues to impose a male guardianship system whereby law, men – whether they are an abusive ex-husband, father, brother or even a son who is a minor – are free to execute major decisions concerning women. A woman is forbidden to exercise freedom of choice: she may not undergo a medical operation, attend school or travel to another country without permission from her male guardian. Filing a complaint against an abusive partner isn't an option because she cannot go alone to the police department. "The guardianship system in Saudi Arabia, where women's decision-making is subjected to male authority or male authorization, clearly, by law, is discriminatory," says Mollmann, who believes that the system in Saudi Arabia "is linked to their extreme interpretation of Sharia law. "Implementing this system really has no place in modern society," she adds. Earlier this year, Birrell was suddenly deported back to Australia, but without three of her five children, who are Australian citizens. She wept and pleaded with her former husband to not take her kids away from her. "I was so distraught I collapsed," Birrell told Sydney Morning Herald. "This is not a choice. I will never choose to leave my children." She continues the fight to have her children back home with her.
Barbara Boxer, a U.S. senator from California, is the author of the original 1994 Violence Against Women Act, which provides the criminal justice system with reforms to better prosecute violent crimes against women. During the annual "It's Time to Talk" campaign in 2005, Boxer said: "The Violence Against Women Act protects the lives of tens of thousands of domestic violence victims. But the U.S. must also support gender equality around the world, and that means acknowledging that some nations we consider to be our friends are no friends to women. For example, domestic violence is not regarded as a crime in Saudi Arabia. The United States should not have 'normal' relations with nations that treat women as second-class citizens."
"The guardianship system in Saudi Arabia, where women's decision making is subjected to male authority or male authorization, clearly, by law, is discriminatory." – Marianne Mollmann
Saudi Arabia's King Abdullah recently made headlines when he appointed a woman to the rank of deputy minister and launched the first co-educational system for both sexes. This suggests a less conservative view and cautious approach to loosening the stringent gender segregation that is tradition in Saudi Arabia. Saudi conservative Rowdha Yousef believes that women should continue to adhere to Saudi culture. A mother of three, she began a campaign called "My Guardian Knows What's Best for Me" when she noticed Saudi women organizing personal freedom crusades such as that of activist Wajeha al-Huwaider, who demanded to cross the border without male permission. Interviewed by The New York Times, Yousef revealed that she is able to experience freedom while practising Sharia law and family customs, thanks to her elder brother, who is a benevolent guardian. She also feels that female campaigners are fuelled by what they see in Western society.
Consider the story of Quebec native Nathalie Morin. Mired in what Canadian Foreign Affairs Minister Lawrence Cannon deems a 'private matter,' she was recently in the news claiming that she and her children have been forced to live in the Kingdom of Saudi Arabia by her husband, who she alleges is abusive. Choked not by the throbbing desert heat or an Arabian sandstorm, Morin has been desperately trying to return to Canada for almost three years. "I cry, he hits me. I laugh, he hits me. I talk, he hits me. I get angry and he beats me," Morin told CBC News. Her union is not of happiness and love, it's an antiquated chattel marriage, where the husband owns his wife. She is his property. She is his slave. And just as the right side of the road is left in England, once a woman leaves Canada, she is subject to the laws and customs that govern the country in which she lands.
Mollmann, who has witnessed gender inequality worldwide, says that it's vital to recognize the cultures in our own country, "or else we will not be able to uproot it. If we don't speak up, we are participating in this abuse," she warns. Last month, French President Nicolas Sarkozy encouraged France to ban the burka, as he describes the Islamic garment as oppressive to women. "In our country, we cannot accept that women be prisoners behind a screen, cut off from all social life, deprived of all identity. The burka is not a religious sign, it's a sign of subservience, a sign of debasement," he has been quoted as saying during a speech at the Palace of Versailles last year.
Long-standing patterns of abuse also take root in our own backyard. In domestic cases, seven per cent of women are assaulted by their spouses every year. Statistics Canada reports that one-half of all Canadian women experience at least one incident of violence since the age of 16.
In 2007, Aqsa Parvez, a 16-year-old girl from Mississauga, Ont., who is said to have refused to wear the hijab (a head covering traditionally worn by Muslim women) was allegedly strangled to death by her father*. With aims to restore a family's reputation, honour killings continue to be a worldwide problem, with a 2000 report by the United Nations Population Fund estimating that as many as 5,000 women and girls are killed each year by their relatives.
"We cannot accept that women be prisoners behind a screen, cut off from all social life, deprived of all identity. The burka is not a religious sign, it's a sign of subservience, a sign of debasement."
– French President Nicolas Sarkozy
So as the years pass, women continue to be held at the mercy of the state, society and their family, whether they are in peaceful countries or in war zones. However, since 1948, the General Assembly of the United Nations adopted the Universal Declaration of Human Rights, which states: "Everyone has the right to life, liberty and security of person [Article 1] … No one shall be held in slavery or servitude [Article 2] … Men and women of full age, without any limitation due to race, nationality or religion, have the right to marry and to found a family. They are entitled to equal rights as to marriage, during marriage and at its dissolution [Article 16]." For Nazia Quazi, the right to marry without limitation was a life-consuming obstacle that shrouded her existence for years. A Canadian Muslim woman who met and fell in love with a Hindu while studying at the University of Ottawa, she decided to take a stand against her disapproving parents and fly to Dubai, where she would marry Bjorn Singhal. Her parents interjected and convinced her to go away with them to perform a religious pilgrimage in Mecca, Saudi Arabia. Trusting her father, Nazia visited him in Saudi Arabia where he has been working for years. There, she allegedly met entrapment and violent abuse for three tortuous years. She says he confiscated her Canadian and Indian passports, refusing to let her leave. With the male guardianship law in her father's hands, Quazi, a Canadian citizen, became a prisoner in Saudi Arabia. Fighting for her right to be happy, she approached the Canadian Embassy in Saudi Arabia and took to the Internet to tell her story, but no one could help her. It was only because her father acquiesced that she was able to finally marry Singhal in Dubai in May 2010.
Women and girls across the world are crippled with abuse, be it physical, emotional or psychological. Their dignity is denied. Since the 18th century, the Women's Movement has made progress but to say we live in a 'post-feminism' era falsely implies that women have achieved equality. While women burned their bras in the '60s for female liberation, rural parts of India, for example, continues to commit merciless bride burnings – dowry deaths. In heart-breaking addition, the World Health Organization estimates between 100 and 132 million girls and women across the world have endured female genital mutilation.
In a world saturated with technological progress, scientific milestones and astronomical feats, women still do not have the basic right to be a person, to exercise their God-given thoughts and conviction. It seems like we're more concerned with discovering signs of life on another planet, while the pulse of abused women slows as they fight alienation every day. The 62-year life span of the Universal Declaration of Human Rights recently recognized how far we have come, and there is no denying that we have come a long way. Yet it is a frightening reminder of how short we have fallen. In the arena of women's rights, the absence of social change in the chain of evolution reflects the societies of several centuries ago. "Women are treated in a way that is not one of equality, and as a result, we see expressions of that through violence and discrimination," says Mossman.
"A life free from violence is a basic human right," says Amnesty International. Will the entrenched view of women as inferior ever have a happy ending?
STOP THE SILENT TREATMENT. TO JOIN THE FIGHT, GO TO:  www.amnesty.org, www.hrw.org
*[UPDATE] The father and brother of 16-year-old Aqsa Parvez of Mississauga, Ont. have been sentenced
to life in prison after pleading guilty to second-degree murder. Aqsa was strangled to death in her home in December 2007.