Gracia Bath Kitchen Interiors: Revitalizing your Renovation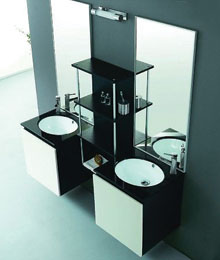 Your home's décor should be a reflection of your individual style and personality.
At Gracia Bath Kitchen Interiors, an expert staff and a comprehensive collection of designer products will achieve the look you've been craving. Whether you dream of an elegant Victorian finish or a modern vibe, Gracia has everything you need. "The two most renovated rooms in the average household are the kitchen and bathroom," says owner David Tong. "Revamping these rooms can really change the look of your home and even increase its value."
Offering contemporary European bathroom and kitchen fixtures, from quality bath and massage tubs, steam units, glass shower columns, to toilets, vanities, sinks and faucets,  Gracia uses its unparalleled experience and expertise to delight customers that desire a practical and aesthetically pleasing change. "We don't follow the traditional style, and that's our niche," says Tong.
Gracia Bath Kitchen Interiors
www.gracia.ca, info@gracia.ca
T: 905.265.8777, 416.223.2241
51 Jevlan Drive, Unit 8,
Vaughan, Ont.