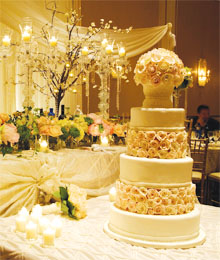 Not many banquet halls are quite like The Venetian, where you can look around and admire huge mosaics and glance up at a ceiling decorated with inspiring paintings and mouldings. The lobbies feature double tiers of gold, off-white and beige. The light reflects on the colours, juxtaposed with those of the mosaics and paintings to create an architectural masterpiece – a hall that not only displays art but is, in itself, a work of art.
The Venetian accommodates a variety of events, cultures and needs. It hosts everything from bachelor parties and showers to sacraments and weddings, including bar and bat mitzvahs and can cater to a wide variety of cuisines including Kosher, European, Chinese and Middle Eastern. Clients can also opt for a more traditional menu. "We pride ourselves on the diverse selection of food and services offered," says owner Joseph Mete. Read more
Count on Lawn Creation's lovely little stork to deliver a precious welcoming environment on your dream day. Sprinkling joy across the lawns of party hosts, Lawn Creations' signage can revamp any special occasion of your choice, from birthdays to anniversaries and weddings. If you're the one being invited, thank your host with a bonbon-filled basket of delicious chocolates as a warm greeting gift! Ask for Dina 905.893.9957
PHOTO: Welcome a new addition to your family with Lawn Creation's lovely stork.