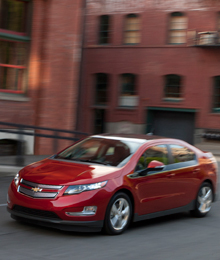 A shocking revelation in eco-friendly driving has made its way to the Great White North, and its name is the Chevrolet Volt. After the buzz about its marathon battery life, the 2011 Motor Trend Car of the Year is now modestly cruising Canadian streets, and for the environmentally conscious driver, this car is a hit.
When GM released the EV1, the first mass-produced electric vehicle (EV) of the modern era 15 years ago, it was received with much content, even though it was available only through lease. In a controversial fashion, however, GM killed off the EV1, citing unprofitability as its demise. Because public perception shifted towards eco-friendly transportation, major automotive manufacturers have changed course. Read more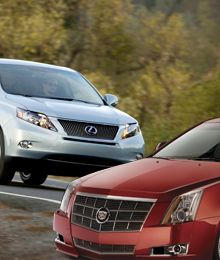 Not too long ago a hybrid gas electric vehicle was viewed as some sort of science experiment. Fast-forward a decade and hybrid vehicles are now all the rage and moving into the premium segment. Lexus was one of the pioneers in offering a hybrid in its line-up of luxury vehicles so it was only natural for Lexus to offer a hybrid version of its popular RX350 SUV in the form of the RX450h hybrid.
Style-wise, the RX450h is almost indistinguishable from its gasoline-powered sibling, the RX350. Only a trained eye will spot the hybrid's specific styling cues, such as the unique wheel design, subtle blue hybrid badging and light blue tinted tail lamp lenses. A cool exterior feature is the available LED headlamps that give the RX450h a high-tech appearance. Read more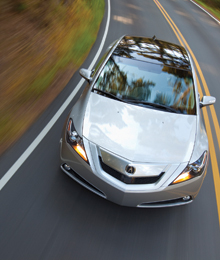 In 1769, Nicholas-Joseph Cugnot invented the first-ever self-propelled vehicle. It ran on steam, and it topped out at two miles per hour. Even back then, engineers like Cugnot faced the same problem we have today: How do we create an environmentally friendly car without sacrificing speed and power?
While efforts are being made to answer that billion-dollar question, environmentally conscious cars, along with carefree speedsters (and everything in between) were on display at the 2010 Toronto International Auto Show. With over 1,000 cars to choose from, we selected four – three Japanese models looking for attention, and one class-leader looking for redemption.
Let's take a closer look at the 2010 Lexus IS C250 and 350 convertibles. The C badge means drivers will enjoy a Read more
Car aficionados always say that they want one car for the winter and one car for the summer. While at first glance this may sound simple enough, what they really mean is something a bit different altogether. What car guys really want is a capable and impressive daily-driver, and a head-turning, noise-making, tire-burning sports car that can be unleashed when the weather is nice and the streets are dry.
The Lexus GS450h and the Nissan 370Z fall nicely into these two categories.  The GS450 is a luxurious and smooth sedan, capable of meeting and surpassing all of your daily commuting needs, while the 370Z is a fast and furious sports coupe that calls out for attention.
Lexus GS450h
Long known as an industry leader when it comes to comfort and luxury, Lexus has again found a niche Read more
With the global economy's  downturn, the automotive industry is taking a hard hit. So exactly how are manufacturers reacting to the financial crisis, and what does it mean for consumers? The North American International Auto Show promised light at the end of 2009. The January exhibit debuted what's in store for motor-savvy enthusiasts everywhere – and much of it is good news. Some of the hottest cars from companies like Hyundai, Lexus and Honda made dazzling appearances as they offered reassuring specifications. Not only have automotive competitors tried to maintain product integrity, they've also developed a series of energy efficient and environmentally friendly vehicles.
This year is definitely something to look forward to, especially when it comes to these five vehicles. The 2009 Honda Insight, 2010 Jeep Patriot EV, and 2010 Lexus HS 250h are shining Read more
Open any automotive publication or read any auto industry news and the one underlying theme seems to be either fuel cell vehicles or hybrid vehicles. Right now, gas electric hybrids rule, due to their wide availability and user-friendliness. Why hybrid, you ask? Currently, this is the only cost-efficient technology that works by taking into account practicality, cost and buyer acceptance, if you want your ride to reduce its carbon footprint!
Here's a little insight into hybrid vehicles: either one or two types of power plants are used to power the vehicle, hence the term hybrid. Currently for sale in our marketplace are gas electric hybrids. These primarily use a gasoline engine that provides power to move the vehicle, and also doubles as a generator to power an electric motor, or to charge up the high-voltage batteries. Read more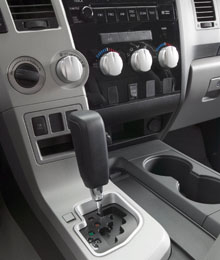 Look back and discover 2007's notable entries from a few auto manufacturers.
The big news from Toyota in early 2007 was the launch of its full-size Tundra pickup that finally made it a legitimate player in the half-ton segment. There was no mistaking it: the gargantuan exterior put the Tundra shoulder-to-shoulder with the established brands in the field, which include the Chevy Silverado, Ford F-150, Dodge Ram and Nissan Titan. Backing up the handsome and butch-like styling is considerable firepower under the hood. How does 381-horsepower from the high-tech 5.7-litre motor that easily shames most high-performance cars through the quarter mile sound? But most impressive is its 10,000-pound towing capability. Read more