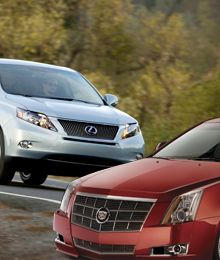 Not too long ago a hybrid gas electric vehicle was viewed as some sort of science experiment. Fast-forward a decade and hybrid vehicles are now all the rage and moving into the premium segment. Lexus was one of the pioneers in offering a hybrid in its line-up of luxury vehicles so it was only natural for Lexus to offer a hybrid version of its popular RX350 SUV in the form of the RX450h hybrid.
Style-wise, the RX450h is almost indistinguishable from its gasoline-powered sibling, the RX350. Only a trained eye will spot the hybrid's specific styling cues, such as the unique wheel design, subtle blue hybrid badging and light blue tinted tail lamp lenses. A cool exterior feature is the available LED headlamps that give the RX450h a high-tech appearance. Read more
Welcome to the chic, sleek, all-glass showroom of Northwest Lexus, located in Brampton, Ont. Whether you're looking to invest in a gas-efficient, smooth-sailing sedan or an ultra-fast sport coupe convertible, the impeccable sales service at Northwest Lexus can assist and educate you in all areas of the vehicle and pricing. Just drop in and book your appointment to take a luxury vehicle for a spin, with Northwest Lexus's new special offer. www.northwest.lexus.ca
TOP LEFT: The futuristic ladies of Northwest Toronto strike a pose next to an outstanding vehicle of what's to come. TOP RIGHT: Guests and the employees of Northwest Lexus mingle about the posh dealership, ready to network amongst their car-friendly peers. ABOVE: The all-glass showroom of NorthWest Lexus, located at 2280 Queen St. E. in Brampton, Ont.