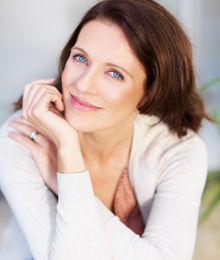 How many times have you heard someone say, 'I want to look 10 years younger?' It is a wish that is made by most women, and it has finally been granted. With five successful locations and two decades on the scene, Skin Vitality has been helping clients drop years off their appearance.
"We help you be the best you can at any age," says Sherline Anderson, a registered nurse and medical consultant at Skin Vitality's Yorkville location. Going above-and-beyond this promise, Skin Vitality organized a "Look 10 Years Younger" contest. Five lucky winners were awarded makeovers that gave them youthful and show-stopping looks. With $10,000 worth of treatments, the ladies underwent non-invasive procedures, including Fraxel laser skin resurfacing, Skin Tightening, FotoFacial, VelaShape, Read more
They say perfection is impossible, but that's because they haven't been to Skin Vitality. It starts with a feeling, and that feeling is confidence. "Confidence is the single-most important trait a woman can have. Nobody can make you feel inferior without your consent," says Eleanor Welsh, owner of Skin Vitality. Skin Vitality offers the best cosmetic technology in the world today, with a special emphasis on non-invasive procedures. Some of the more popular non-invasive procedures offered include FDA-approved Vela Shape and Skin-Tightening treatments, as well as Fotofacials. Skin Vitality may not have the fountain of youth, but it does have a cascade of transforming procedures at your disposal.
While expanding Skin Vitality into five luxurious locations – with two more coming soon – across southern Ontario, Welsh became familiar with the daily stresses that can bring a person down. Today, she has made it her life's work to help people achieve the glow and strut of a confident person with safe and effective treatments. Read more