10 Years Younger with David Clemmer and Skin Vitality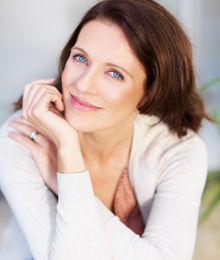 How many times have you heard someone say, 'I want to look 10 years younger?' It is a wish that is made by most women, and it has finally been granted. With five successful locations and two decades on the scene, Skin Vitality has been helping clients drop years off their appearance.
"We help you be the best you can at any age," says Sherline Anderson, a registered nurse and medical consultant at Skin Vitality's Yorkville location. Going above-and-beyond this promise, Skin Vitality organized a "Look 10 Years Younger" contest. Five lucky winners were awarded makeovers that gave them youthful and show-stopping looks. With $10,000 worth of treatments, the ladies underwent non-invasive procedures, including Fraxel laser skin resurfacing, Skin Tightening, FotoFacial, VelaShape, and more. With zero downtime or scarring came renewed faces and tightened bodies.
Before her Skin Vitality makeover, Trish Miller was less than thrilled with her appearance. She looked tired and run-down at only 46. Now, sagging skin and signs of aging are no longer a concern. After being awarded a complete makeover by Skin Vitality, this woman is now glowing with confidence and ready to take on the world, 10 years younger. Founder of Skin Vitality Eleanor Welsh, prides herself on delivering first-class results with state-of-the-art-technology and experienced medical staff.
David Clemmer of the hit show Style by Jury and owner of Judy Inc. collaborated with Skin Vitality to help complete all five looks. He stood in as a stylist and overall visionary to select clothes that flattered each woman. Celebrity hair stylists and makeup artists were also on-site to bring out the winners' best features, with makeup by GloMinerals. The finishing touch was added by whitening each woman's smile with Zoom Whitening, donated by Dawson Dental.