On June 14, 2012, an inspiring event at the Bellagio Boutique Event Venue gathered over 200 guests in support of children in Vaughan and North York who cannot afford funding for behavioural/occupational therapy. Established by Dimitri and Francesca Giankoulas in an attempt to spread awareness and raise much-needed funds for this endeavour, an impressive $12,000 was raised. Proceeds went towards Under the Umbrella Tree, an intensive, early intervention behavioural treatment centre that specializes with kids and parents dealing with autism.
www.puremotivationfitness.com
Read more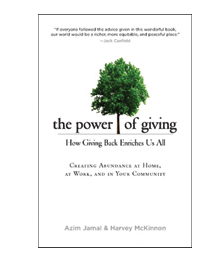 Excerpt from The Power of Giving, by Azim Jamal and Harvey McKinnon (Tarcher, 2008).
There's no denying that life in the 21st  century is demanding. There never seems to be enough time to do all the things that need to be done: keep up with work or studies, spend time with family, earn enough money to pay the rent and buy necessities. With so many challenges to cope with, you may ask yourself, "Why should I expend any effort in giving?" or "I'm already scrambling to deal with all the demands and pressures on me. How will I find time and resources to give more?" or "No one gives to me, so why should I give to others?"
Probably the biggest gift you will ever receive is the huge investment your parents made in you. But they are not the only ones who have given to you. During the course of your life you have received many things from other people – teachers, relatives, strangers. Read more
Run by bodybuilding and nutrition expert Dimitri Giankoulas, Pure Motivation Fitness has been helping clients achieve their dream bodies for years. Proving that hard work pays off in the gym and in business, this successful fitness boutique recently won in the small business category at Vaughan Chamber of Commerce's 22nd annual Business Achievement Read more
March 20th, 2010, marked the one-year anniversary for Dimitri Giankoulas and wife, Francesca Giankoulas, as they celebrated their lifelong dream of opening up Pure Motivation Fitness Studio – Vaughan's only Read more
Marking Vaughan's first boutique fitness studio was the grand opening and ribbon-cutting ceremony of Pure Motivation Fitness on March 13th, 2009. Delicious foods were catered from Read more