On June 14, 2012, an inspiring event at the Bellagio Boutique Event Venue gathered over 200 guests in support of children in Vaughan and North York who cannot afford funding for behavioural/occupational therapy. Established by Dimitri and Francesca Giankoulas in an attempt to spread awareness and raise much-needed funds for this endeavour, an impressive $12,000 was raised. Proceeds went towards Under the Umbrella Tree, an intensive, early intervention behavioural treatment centre that specializes with kids and parents dealing with autism.
www.puremotivationfitness.com
Read more

The 3rd annual Vaughan Chocolate Ball was attended by more than 400 guests, who gathered to celebrate all things chocolate at the Bellagio Boutique Event Venue on May 3, 2012. From savoury food samplings to delectable desserts, guests treated themselves to chocolate-infused cakes, pastries, candy, and dancing. Actress Tonya Lee Williams also made a celebrity guest appearance. The night was held in support of Giant Steps, a school and therapy centre aiding children with autism.  
Read more
In support of children with autism and passionately devoted to enhancing the quality of life for all those affected by the condition, the Shining Through Centre's gala –  its biggest annual fundraising event, held this year on March 2nd, 2012 – celebrated yet another magical night. Over 1,000 guests enjoyed a first-rate dining experience, a large silent auction, raffle draws that included a trip to Las Vegas to meet Celine Dion, as well as a trip to Monza, Italy to watch the Grand Prix; and entertainment provided by composer and Canada's Got Talent judge Stephan Moccio at the Embassy Grand Convention Centre. The event, which began as a night of family, friends and community members showing their support for children with autism 13 years ago, raised over $225,000.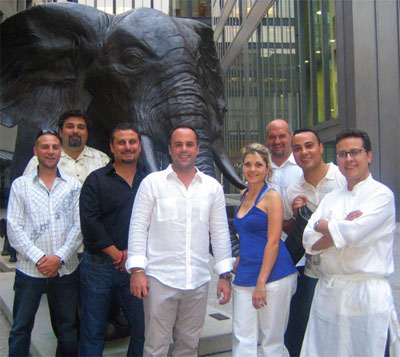 By producing lively, upbeat events, the Remember Me Foundation is a group of business entrepreneurs raising funds for less-recognized charities such as Giant Steps Toronto, which fosters educational programs for children living with autism, and Families For Children, which helps impoverished women and children in India and Bangladesh. The Partylicious Event at Jump Café & Bar on Aug. 15, 2009, provided a delicious spin on fundraising with food delights by Toronto's top chefs Ted Reader and Filippo Mancuso. The event successfully raised $35,000.
www.familiesforchildren.ca
www.giantstepstoronto.ca
Photo: Dave Parisi, Rob Chiodo, Jason Monaco, Sam Mancuso, Laura Sorrentino, Filippo Mancuso, George Dipede, Tony Laguardia.