"Every time they turn that key, they're smiling, they're saying 'wow this is my car' and they enjoy the drive," says Dominic D'Elia, general manager of Maple Acura. "That's our main goal." With a dynamic team of individuals, this brand new dealership is able to give its customers the best service possible.
When you walk into Maple Acura's modern 25,000 sq. ft. facility, you instantly feel at ease. From the receptionists to the sales and service people, the spacious dealership is recognizably unique. Although Acura has a great reputation for building vehicles that impress their owners year after year, the Maple dealership prides itself on something different. "We have the same products as every Acura dealership, but what they don't have is our team," says D'Elia. "Our business focuses on the people." Read more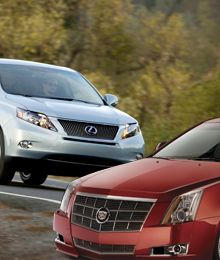 Not too long ago a hybrid gas electric vehicle was viewed as some sort of science experiment. Fast-forward a decade and hybrid vehicles are now all the rage and moving into the premium segment. Lexus was one of the pioneers in offering a hybrid in its line-up of luxury vehicles so it was only natural for Lexus to offer a hybrid version of its popular RX350 SUV in the form of the RX450h hybrid.
Style-wise, the RX450h is almost indistinguishable from its gasoline-powered sibling, the RX350. Only a trained eye will spot the hybrid's specific styling cues, such as the unique wheel design, subtle blue hybrid badging and light blue tinted tail lamp lenses. A cool exterior feature is the available LED headlamps that give the RX450h a high-tech appearance. Read more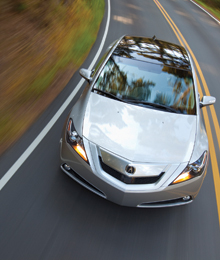 In 1769, Nicholas-Joseph Cugnot invented the first-ever self-propelled vehicle. It ran on steam, and it topped out at two miles per hour. Even back then, engineers like Cugnot faced the same problem we have today: How do we create an environmentally friendly car without sacrificing speed and power?
While efforts are being made to answer that billion-dollar question, environmentally conscious cars, along with carefree speedsters (and everything in between) were on display at the 2010 Toronto International Auto Show. With over 1,000 cars to choose from, we selected four – three Japanese models looking for attention, and one class-leader looking for redemption.
Let's take a closer look at the 2010 Lexus IS C250 and 350 convertibles. The C badge means drivers will enjoy a Read more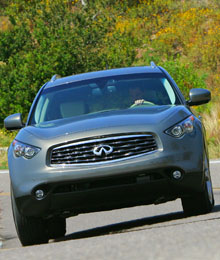 In a league of true contenders, performance matched with style of high artistic valour provides FX with a formula of necessity needed to compete. The "Performance Inspired" design of the 2010 Infiniti FX35 and FX50 is a package of fluid motion, class-leading safety and technological superiority that sets it apart from the competition.
"The combination of no-hesitation acceleration, radical design, and the handling and performance of a sports car has not been achieved by any of the 2010 FX's competitors," says Nader Maher, sales manager of new vehicles at a local Infiniti dealership.
Maher's confident Infiniti pride stems not from a sales perspective but from personal experience. He explains how he (a five-year owner of the FX brand) will be upgrading to the 2010 FX50 in the coming weeks. "You never feel insecure in an FX," he says. Read more
On Oct. 26, 2009, Ontario joined the growing number of jurisdictions around the world to introduce a distracted-driving law. Among other things, the new law makes it illegal to drive while using any kind of hand-held phone, PDA or other device such as a GPS or MP3 player. The period between the introduction of the law until the end of January 2010 is being used to educate drivers about the new law before police start issuing fines on Feb. 1, 2010.
While the law does apply to all devices, the most common cause of hand-held-device-related accidents is people making phone calls, texting and performing other operations on their cellphones while driving. Numerous studies on the effect of distracted driving have shown that sidetracked drivers are up to 20 times more likely to have an accident than more focused drivers. Over 90 per cent of all accidents are caused by driver error, Read more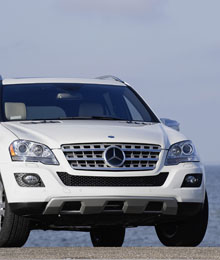 With the winter upon us, and our beloved sports cars sitting dormant in the garage, luxury SUVs take centre stage.  In the North American market, where SUVs have shown their popularity year after year, the competition is fierce.
Desired by many, and driven by a lucky few, Mercedes Benz is synonymous with luxurious driving. The 2010 ML350 BlueTEC is no different.
While some argue that it is a necessity of winter driving, four-wheel-drive often comes at a premium. It's often more expensive to fuel, more expensive to maintain, and more expensive to purchase.  And while the ML350 is by no means an inexpensive vehicle, with a base price tag of $58,900 buyers are getting a lot for their money. Read more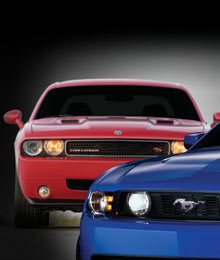 With the North American automobile industry suffering, Ford and Chrysler continue to focus on attracting a niche market that never seems to grow old. From sports car enthusiasts like Jay Leno to do-it-yourselfers like Home Improvement's Tim Taylor, the muscle car is an iconic status symbol that transcends generations and attracts envious glares from those left in its dust.
The Ford Mustang GT and the Dodge Challenger R/T are perhaps the most prominent domestic muscle cars on the market today. Fully equipped with styling that will make you shake in your racing boots, growling engine noises, and enough power to force your head to the headrest, the Challenger R/T and Mustang GT would be welcomed additions to any car aficionado's garage. Read more
Car aficionados always say that they want one car for the winter and one car for the summer. While at first glance this may sound simple enough, what they really mean is something a bit different altogether. What car guys really want is a capable and impressive daily-driver, and a head-turning, noise-making, tire-burning sports car that can be unleashed when the weather is nice and the streets are dry.
The Lexus GS450h and the Nissan 370Z fall nicely into these two categories.  The GS450 is a luxurious and smooth sedan, capable of meeting and surpassing all of your daily commuting needs, while the 370Z is a fast and furious sports coupe that calls out for attention.
Lexus GS450h
Long known as an industry leader when it comes to comfort and luxury, Lexus has again found a niche Read more
The ideal vehicle is one you can enjoy at work or play. Keeping in mind the much-deserved summer season, we're confident that these three rides are just what's needed to unleash some enjoyment.The Mazda MX-5, Chevrolet Camaro, and Audi TTS are a triad of ideal, multi-purpose sports cars to take you anywhere under the sun. Read more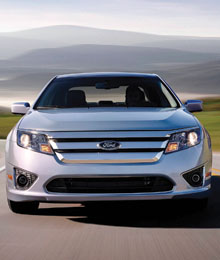 Look at a highway in any city and you'll notice the same thing – a sea of air-polluting machines. But travel doesn't have to be damaging, especially with these environmentally friendly vehicles. Read more