With the global economy's  downturn, the automotive industry is taking a hard hit. So exactly how are manufacturers reacting to the financial crisis, and what does it mean for consumers? The North American International Auto Show promised light at the end of 2009. The January exhibit debuted what's in store for motor-savvy enthusiasts everywhere – and much of it is good news. Some of the hottest cars from companies like Hyundai, Lexus and Honda made dazzling appearances as they offered reassuring specifications. Not only have automotive competitors tried to maintain product integrity, they've also developed a series of energy efficient and environmentally friendly vehicles.
This year is definitely something to look forward to, especially when it comes to these five vehicles. The 2009 Honda Insight, 2010 Jeep Patriot EV, and 2010 Lexus HS 250h are shining Read more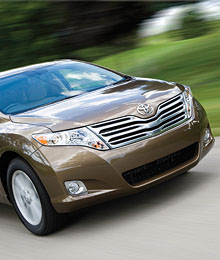 Lately, there's been quite a bit of hype about crossover utility vehicles (CUVs). Are you wondering what the difference between a CUV and an SUV is? Crossovers like the Ford Flex, Mazda CX-7, Jeep Compass and the soon-to-be-released Toyota Venza offer utility in a five-door body style, with handling dynamics that feel very much like a car. Shared machinery includes the chassis, power train and key components. Front-wheel-drive is usually standard, with all-wheel-drive available. Some CUVs, like the Toyota Venza, offer additional SUV-like ground clearance, sans the bulky look. Read more
A staple of luxury, the smooth curves of a Lexus vehicle will transform your life the minute you slide into its high-quality interior engineered with excellence. While the powerful engine purrs seductively as you maneuver its crafted elegance to your destination, trust that Policaro Auto Group will heighten your senses when it comes to choosing the car of your reveries.
Basil, Tony and Paul Policaro are the unbeaten trio of brothers who have steered Policaro Auto Group into a successful five-car dealership business, which includes Northwest Lexus and Northwest Toyota, Acura 2000 and Acura Barrie and Family Honda. Read more
Those unaccustomed to the ISF should beware of the beast within. Armed with some serious artillery, the IS F delivers devastating performance!
It's common knowledge that the German car companies rule the mega horsepower roost with machinery sporting acronyms like AMG by Mercedes, M from BMW and RS from the house of Audi. These bad boys are constantly battling for power supremacy with their steroid induced, four-door sedans and coupes. Their performance matches or exceeds many exotic super cars.
Read more