NuAge Med Spa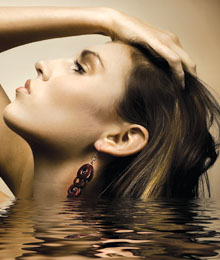 In the historic town of Kleinburg rests a rejuvenating venue where innovative treatments boost self-esteem and overall appearance.
As its name suggests, NuAge Med Spa provides its clients with advanced professional services that boast new technologies and procedures in skin care and beauty while delivering the highest level of results. NuAge Med Spa gives visitors the chance to enhance and improve everything from their face, nails, hair and body with procedures like Botox, as well as laser skin treatments to remove fine lines, age spots, sun damage and spider veins.
"I carry only the best products and offer the most-wanted services in the beauty industry," says Teresa Kavanagh, owner and experienced esthetician of NuAge Med Spa. Kavanagh, who decided to start a new career in the beauty industry with the opening of NuAge, longed for the undeniable satisfaction she got from making people feel beautiful.With a big smile and an Irish accent, Kavanagh recalls the days when she was living in Ireland, going to her clients' homes on her moped to apply facials and makeup. Today, she continues to make all of her clients leave feeling and looking even better than they did when they first walk into NuAge. "I love to make people happy," says Kavanagh, who because of her strong background in makeup application and art graduated with honours from the Micro-Pigmentation Centre in Mississagua. She also attended and graduated with honours from The Aesthetic School of Canada.
Services offered by NuAge Med Spa include natural spray tanning by St. Tropez; laser hair removal; permanent makeup; semi-permanent eyelash extensions by Xtreme Lash; tattoo removal; artificial nails including OPI and Shellac gel nail polish; hot stone massages, waxing, spa evenings for bridal or birthday celebrations, and more. Equipped with a staff of fully certified medical estheticians and an on-site doctor for all cosmetic injectable procedures, NuAge Med Spa provides realistic prices and exceptional, beneficial treatments. Its signature Thermal Stamp treatment inspired by 14th century Thai therapy soothes the body, while customized facials boast ingredients like papaya, lactic acid, peptides, enzymes, sea mud and chamomile.
NuAge is open Mondays and Tuesdays from 9 a.m. to 5 p.m.; Wednesdays and Thursdays from 9 a.m. to 8 p.m.; Fridays and Saturdays from 9 a.m. to 5 p.m.; and Sundays by appointment only from 12:30 p.m. to 5 p.m.
www.nuagemedspa.net 905.893.7900