City Life Great Achievers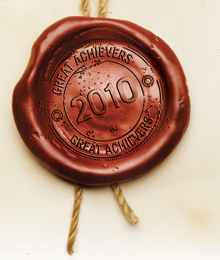 Great Irish playwright, George Bernard Shaw, once wrote: "People are always blaming their circumstances for what they are. I don't believe in circumstances. The people who get on in this world are the people who get up and look for the circumstances they want, and, if they can't find them, make them." City Life magazine introduces booming entrepreneurs in the GTA who have carved their own successful existences. These great achievers give us a good reason to never give up. All admirable and ambitious, with impressive businesses, these inspiring community icons are showing our readers what it takes to lead successful lives and achieve their goals.
Santina Mariani of Zero 20 Bambini: Everything for Everyone
A landmark in the city of Vaughan for the past 27 years, Zero 20 Bambini is a business based on excellent service, quality clothing and prices that a growing family can afford. Santina Mariani and her sister, Anna Turrin, created a unique destination, an affordable designer boutique that dresses children of every shape and size, from head to toe. It's a massive store with an endless selection of anything and everything you could possibly need for any occasion.
Zero 20 is not your typical, high-end, expensive boutique. This one-stop shop is like a department store for children. Hard-to-find boys' and husky sizes are always available. "We train our staff of 18 to be friendly and helpful, never pretentious or pushy," says Mariani. They give their customers value for their money, which creates a relationship of trust and has been key to their success.
"We are here every day for our clients. If you are not committed and dedicated to a business, don't even start," says Mariani. They were awarded Retail of the Year 2009 by the Vaughan Chamber of Commerce, a well-deserved  achievement.
The owners shop the world to fill the wants and the needs of a Zero 20 customer. "The only reason we exist is to give the customer what they need. We listen to every suggestion and try to accomodate them," explains Mariani. With elegant chandeliers, relaxing couches and rows of beautiful white dresses, girls transform into little princesses as they try on tiaras, gowns and shoes for their big day as a flower girl, or to celebrate their first communion. For the boys, there is another room full of suits, shirts in a rainbow of colours and ties to complement.
Focusing on formal and religious occasions, Zero 20 has something for everyone. Baptisms for Catholic, Christian or Orthodox ceremonies command a very large department that has everything imaginable, from simple cotton dresses to heirloom quality silk beaded gowns.  "I'm sure we have the biggest selection in Canada, and if we don't have it, our in-house designer can make it so," boasts Mariani. For the boys, the silk or linen suits topped with "paper boy" hats are irresistible.
Each child's individual style is covered. Popular brands – of which there are more than 50 – include Lacoste, Diesel, Geox, Puma, Deux par Deux, Miniman, and Hugo Boss. There are sales throughout the year and all brand labels are cleared at the end of each season at half price. Join the newsletter and be the first to know.
Whether it's the friendly atmosphere, affordable prices or the convenient hours (five weeknights until  9 p.m.), shopping is always a pleasure at Zero 20. www.zero20.com 905.851.6041
John Di Vittorio of Vinsanto Ristorante:
Enticing the Palates of Vaughan
With almost 20 years of restaurant experience, John Di Vittorio knows how to turn an ordinary dining experience into something spectacular. "Hard work, determination, and a lot of patience," is what Di Vittorio, the owner of Vinsanto Ristorante, credits for his successful and highly regarded business. Vinsanto has become a favourite in the Vaughan community and continues to impress with its impeccable cuisine and rustic décor. Customers come back because "they love the overall experience of the restaurant – from the food, the service and the ambiance," says the entrepreneur.
Di Vittorio is no stranger to the industry, having worked at various restaurants throughout his life including Coppi, Rosewater Supper Club, Mercato, and Crush Wine Bar. "The fact that I've had so much experience has prepared me for this exciting venture of having my own restaurant," says Di Vittorio. According to the hardworking owner, the key to success is being there seven days a week and focusing your energy on making clients happy. Over the years, and at many different venues, Di Vittorio has learned how to run a restaurant and host events that boast perfection.
The irresistible menu at Vinsanto is definitely an appealing factor for many customers. The delicious calamari fritti or unique Funghi di Bosco, which is arugula salad topped with oyster mushrooms, parmigianno, extra virgin olive oil and balsamic vinegar, is a great way to excite the appetite. For a main course, there are many innovative choices. From the delicious Agnello alla Vinsanto, which contains a beautiful rack of lamb with a pommery mustard demi-glaze, to the exquisite Pappardelle Vinsanto, everyone is sure to find a dish to tantalize their taste buds. Pappardelle noodles, braised veal, shallots, and wild mushrooms with a white truffle sauce all come together to creatively define the exceptional taste of one of Vinsanto's signature dishes.
The exclusive and mouth-watering selection of food is only one reason why Vinsanto is a hot spot in the community. Di Vittorio expresses overwhelming gratification for the success his restaurant has experienced over the years. "Meeting so many great people in the city of Vaughan and the community of  Woodbridge has made the experience even that much more satisfying.
The restaurant projects an elegance that entices every patron. Passion, ambiance and decadence remains the restaurant's motto and appropriately defines the overall dining experience you immerse yourself in once you open the doors of Vinsanto. Indulge with a glass of wine at the bar, savour the taste of Italy with homemade Tiramisu, or relax on the patio while sampling the delectable Antipasto Vinsanto.
The overall feel of the restaurant is appropriate for all occasions and attracts people of all ages. Whether you are looking for a trendy atmosphere to celebrate a birthday or a relaxing environment to have lunch with a friend, Vinsanto Ristorante proves to be the perfect location.
The atmosphere is created with an open-concept kitchen that invites guests to share in the excitement and watch the chefs in action. The main dining area is seamlessly decorated with antique chandeliers and is ideal for a variety of functions. Accommodating 60 guests in the main room, 24 in the private dining area, and 30 on the patio, Vinsanto is available for corporate or social events. The versatility of the venue has contributed to its ongoing success, and has made Vinsanto host of many celebrations and group gatherings.
With live music, friendly staff, and impeccable food, an experience at Vinsanto is anything but commonplace. www.vinsanto.ca 905.264.3991
Paul Walker of Paul's Boot CAMP (PBC) by Integrity Fitness:
Making a difference, one weight at a time.
Standard gyms are often a person's first go-to method to shed off those extra pounds and bring back health into their lives. Paul Walker, however, had a passion for group training women – because he found they were always more serious about fitness – and found there weren't too many group training fitness services available that were able to do just that. He decided to take it upon himself to create boot camp classes and a fitness studio called Paul's Boot Camp (PBC) by Integrity Fitness, where women get a full, personal, effective fitness experience, both indoors and outdoors.
Indoor fitness classes are often offered at gyms but they are indoors. Walker was inspired to present fitness classes outside so that women could enjoy nature and get fit.
"Every summer, on my way to train clients indoor, I would drive by a farm with an old bus advertising their fresh produce. I thought, 'I would love to bring my clients here and train them outside.' I could envision them enjoying the summer day while training and exercising. The bus would be converted to store all the equipment I would need. Even better, I could move the location as I needed."
Up to the age of 12, Walker – now founder of Integrity Fitness, professional and certified personal trainer, certified sports nutritionist and lifestyle and wellness coach – was overweight and one of the heaviest kids in his class. Through fitness, he found a way to develop numerous skills that continue to help him lead an optimistic life with confidence, determination and leadership.
Walker's need to interact with people, along with his goal of giving others the tools and instructions needed to stay healthy and live affluent lives, ignited his idea of creating a way to move away from the regular gym concept with its high-pressure contracts and sales and instead provide a way for people to really enjoy and experience fitness.
"I decided to take more of a personal side to fitness. I guess in the end I'm more of a humanitarian – I like to coach and teach, and this is just the way I chose to do that," says Walker.
"Everyone has different needs. My need is to help people and I get inspired by that," he says.
Initially, his concept of a gym on wheels (Mobile-Fit) lacked support and few people understood his vision. Walker initially found it difficult to get his revolutionary method of fitness out to people, but he never let that hold him back.
"When I first got Mobile-Fit by Integrity Fitness started, there was nothing like it. What I built was Canada's only outdoor mobile fitness boot camp studio," he says.
"I had to work seven days a week with no vacation and I had to surround myself with people who believed in what I was doing."
But his perseverance and passion to make a difference through fitness paid off and in 2005, Walker opened Paul's Boot Camp (PBC) by Integrity Fitness – a first-of-its-kind, rigorous training service for women that features a number of intense indoor and outdoor boot camp classes.
In the outdoor classes, the participating women train in an open field in Boyd Park through a variety of challenging and effective exercise activities and routines. His indoor studios also offer an array of boot camp sessions. Both options provide equipment and fun music, so women don't have to worry about bringing any gear.
With a member base of around 1,500 and two convenient locations at Langstaff and Weston Road and on Hwy 27 in Vaughan, Paul's Boot Camp continues to present a friendly, uplifting and versatile way to exercise. In addition to his boot camp classes, Walker says he'll be offering other helpful services to members.
"We're going to be changing our services and expanding again," he says. "This will be our fourth expansion in four years and we're going to be offering things like chiropractic care, pilates, yoga and fusion fitness. We want to offer different types of fitness when people come in as well as the boot camp and training we already have." www.integrityfitness.ca 905.482.FITT(3488)
Salvatore  and Franca Greco of Mondo Uomo:
Dressing Vaughan in Style
Mondo Uomo graces Vaughan with sophistication, high-end designs, and a warm atmosphere. With two dedicated owners, Salvatore Greco and Franca Greco, this clothing store has maintained an excellent reputation over the years. Known for creating a relaxing shopping experience in a comfortable environment, Mondo Uomo boasts integrity and reliability.
Being honest and direct with customers is what Salvatore and Franca emphasize as the key to their success. "If something doesn't look right on them we just tell them 'you know what? Forget it. Take it off,'" says Franca. Finding an outfit that makes the customer look good and feel confident has been Mondo Uomo's constant goal. This steadfast attitude has built a booming business, and continues to attract new and returning customers.
Hugo Boss, Dolce & Gabbana, Cavalli and Ermenegildo Zegna are just a few of the brands that have enhanced the popularity of the business. Customers leave sporting the latest trends and flawlessly fitted clothing. "When we alter a suit, we make it fit like a custom," says Franca. The elegant accessories also add a personal touch to every outfit. Mondo Uomo offers anything from cufflinks and shoes to belts and stylish ties. The experts are always there to help put together an outfit that is fashionable, but also reflects the client's personal style and budget.
It is not only the impressive merchandise that has contributed to Mondo Uomo's success but also the one-on-one attention they grant each and every customer. "We always give our full service and that is really what our business is based on," explains Franca. "It's not just the product we carry but the service that comes with it from beginning to end." Accommodating individual needs and different style preferences, Mondo Uomo always tries to make their customers' experience enjoyable.
At a young age, Franca realized her knack for fashion. This passion pushed her to join Salvatore's established business 20 years ago, and she has been contributing her hard work to Mondo Uomo ever since. Seeing customers pleased with their purchases and feeling confident in their clothing is what makes the experience worthwhile for Franca. Her charming personality continues to add to the warm atmosphere of the store, and greatly contributes to its ongoing success.
Creating lasting relationships with customers, Mondo Uomo strives to give all of their clientele a personal shopping experience. Dressing young men for their confirmation, and grooms on their wedding day, Mondo Uomo's fine clothing and impeccable service is what has made them so successful. www.mondouomo.com 905.856.1099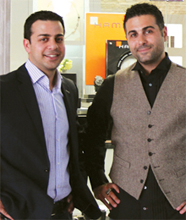 Haigo Derian and Jeff Karadjian of Cupido: Continuing to impress as
Canada's first retailer of exclusive fashion luxury jewelry
A two-tone Tag Heuer Sports Elegance model was the first watch that Haigo Derian sold. He was just 13. "When you're that young, it's tough to convince a customer that you're reputable, but I knew my stuff," says Derian, who continues to cater to that same client two decades later. With extensive formal diamond training and years of experience managing his father's respected company, L'Oro Jewelry, Derian decided it was time for a new venture. In 2007, he teamed up with lifelong friend Jeff Karadjian and opened the doors of Cupido in Vaughan Mills mall. "We wanted to create a concept that focused on a gap in the market – a retail environment that's fresh, new and that specifically satisfies branded fashion luxury products," he says. Unlike most traditional jewelry stores, Cupido carries a rare mix of brands from around the world. From DeMaria, Scott Kay and Pandora, to Hermès, U-Boat and Michael Kors, there is a piece that suits every personality. We strive to give every client as much information about each product we sell, says Karadjian. With little else like it in the industry, Cupido has become an instant success.
Karadjian's business savvy is a perfect complement to Derian's industry expertise, which led the pair to create a second location in the trendy Bayview Village Mall. "Jeff is a very creative guy; he's always on the cutting-edge and loves doing things that aren't mainstream. We've always had a similar vision of doing something that wasn't the norm," says Derian, who is proud of how quickly their vision has materialized."We each bring something different to the table. It's a perfect business partnership," adds Karadjian. Despite the initial challenges of relaying Cupido's unconventional concept to a traditional industry, Derian and Karadjian make it a priority to attend global trade shows and discover new trends before they make it to the marketplace. The pair has lustrous plans to expand the business by opening new locations over the next five years. "I love the fact that every day is different. It keeps things interesting," says Karadjian.
An inspiring range of mainstream brands is what best characterizes Cupido's conquest in a competitive industry. While Derian and Karadjian may be naturally enthused to slip on a different watch every day, they are consistently striving to stay ahead of the times. "It's an evolution. At the end of every day we're one step closer to our ultimate goal of creating the lead role in this segment which we call fashion luxury," says Derian. www.cupidodesigns.com, Bayview Village: 647.346.2176, Vaughan Mills: 905.669.8522
Rosalia Fazzari of Tapestry Decor: Bringing Your Vision Into Reality
Whether it is with a bookshelf or a set of customized curtains, Rosalia Fazzari puts a smile on the face of every home and business owner she decorates for.
Fazzari started working as an interior decorator from her home, decorating her own space and putting together many striking and innovative looks. Recognizing that she had a knack for transforming the blandest of rooms into spectacular areas, Fazzari wanted to share the feeling of walking into a place adorned with beauty and elegance with others.
"Working with people and seeing how they react to the transformation of their home is very fulfilling to me," she says.
In 2004, she opened Tapestry Decor – a décor centre offering full interior design and decorating services to help mesmerize and enhance the appearance of a home or business. Customers can also purchase one-of-a-kind accessories, including antiques, browse through a variety of faux finishes and custom draperies, in-home consultations and full renovations.
"The idea of Tapestry Decor came to me because a tapestry itself has many faces and colours, along with weaves and prints. I think this reflects all the diverse people and many different styles and textures that they may have when they come to me with their décor needs and visions," says Fazzari.
For the past 14 years, Fazzari has used her determination to build and establish a business that merges her passion and talent in interior decorating with her desire to help people achieve their dream look.
Lighting, area rugs, paint colours and even the arrangement of your furniture are all elements Fazzari says can express a lot about a room and the people who own the home or business. That's why Tapestry Décor steps in to help people create their perfect, balanced look.
"People may not have the simplest solutions for arranging certain accessories or colours, whereas someone like myself – I go in and I help them to create that flow and obtain the look they want."
"Whether it be in the wood I select, or the glass, granite, or finishes that I choose, there's a huge variety of unique looks that I can create," she says.
To book an appointment to visit our showroom or have an in-home consultation call 905.264.0635. For more information visit www.tapestrydecor.ca