Lisa Colalillo's Real Estate Guide: Kleinburg and Maple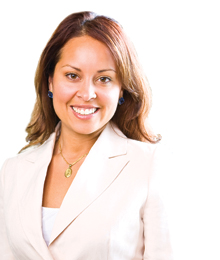 As host of new web series In the City, Lisa Colalillo is a real estate aficionado with an affinity for laughter, great quotes and travel. She shares her fave city findings.
Kleinburg
Secretly known as the "Forest Hill" of Vaughan, Kleinburg houses the affluent executive types.
Kleinburg locals hold much pride in the area's reputation, which is home to the famed McMichael Canadian Art Collection and Kortright Centre for Conservation.Take a stroll through the historic village to discover its treasured shops.
Neighbourhood Hot Spots:
Avenue Market Café: The chic and trendy spot to grab an espresso and be seen.
Mr. McGregor's House Tea: The mix of a lovely garden, baked goods and home-cooked dishes make you feel like you're visiting family.
Villaggio Ristorante: Chef Antonio Barbiere's charming ambiance gives Italian cuisine a gorgeous look.
Housing Stock:
Your entry ticket starts at $650,000 for cosy bungalows, while monster mansions along the conservation and Humber River are by far the most expensive. Zoning changes are in progress, so expect major transformations for Kleinburg.
Maple
If you're looking for action, Maple is the place! Canada's Wonderland, Vaughan Mills and fine restaurants are the staple stops for locals and visitors. With the approval of a subway extension, an influx of 416ers are expected to make the trip.
Neighbourhood Hot Spots:
The Keg: A fave spot for after-work drinks and mingling. Think loud and busy!
Pollo Loco Churraqueria: The place to taste the best BBQ chicken around.
Grazie: Suburban sister to its uptown location, it maintains a busy yet casual mood with rustic eats for any occassion.
Housing Stock: Best variety of options, from starter cribs to luxury condos. Affordable townhomes begin at $350,000, whereas deep-pocket splurges along Weston Road can run over $2 million.
3700 Steeles Ave., W. Vaughan, Ont.  — B. 416.748.9598
131 Woodbridge Ave. Woodbridge, Ont. — B. 905.856.1111
647.405.Sold (7653) — F. 905.856.9782   www.ReMaxExcellenceRealty.com