SW Supper Club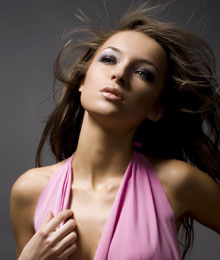 Imagine yourself immersed in a crowd of prominent people in one of the most stunning environments your senses can conceptualize. Imagine handing your car keys to the doorman, streaming down a rich carpet and entering an intimate atmosphere that boasts a blue waterfall and crystal lights that beam down on your elegant evening attire.
You no longer have to envision a place that plays with your senses and satiates your unique personality. Home to the GTA's elite 25-plus crowd, SW Supper Club is designed to break conventions to the point where you feel pleasantly perplexed by the capacity and calibre of its grandiosity.
SW Supper Club's "It's all about sharing" philosophy fuses top-tier tapas-style dining with the hottest nightlife you've ever experienced. "This whole concept is about the expansion of your thought process. You're sharing your experience, you're sharing the ambiance and you're sharing the service. All those things are encapsulated here," says general manager Patrick Corrie. Reminiscent of some of Las Vegas and L.A.'s trendiest spots, SW Supper Club prides itself on its exclusivity as well as its aim to coalesce the most highly regarded elements of luxury entertainment.
The guests who socialize at SW Supper Club are refined, intelligent, suave and know what they like. Instead of having to inconveniently visit a variety of places to both pleasure their palates and dance the night away, guests get the best of both worlds. Not long after being seated at one of the 16-foot luminescent tables and being handed an extensive, seafood-based menu that emanates a soft glow, you begin to realize that every detail is deliberate.
From linen napkins with flirty games on them to an innovative martini list of over 52 flavours, uniquely garnished with grilled limes, cotton candy and graham crackers, every aspect of SW Supper Club is intended to evoke conversation. As evening meets night, dishes are cleared and the dance floor jives to the beat. Prominent DJs execute an energetic mash-up of old school, Top 40, dance, house and hip hop. As time progresses, the intensity of the music increases and a revolutionary light show begins.
With an emphasis on providing an experience unlike any other, SW Supper Club boasts a VIP section and offers Blue Diamond memberships to privileged guests. "We know what our customers want and we deliver. We know them on a more personal level than any other place," says Michael Stewart, director of operations. "There are just so many hooks that make people want to come back. We're giving people an experience that's presently unavailable."  swsupperclub.com 905.726.2207