Dip into the Fountain of Youth's Crystal Water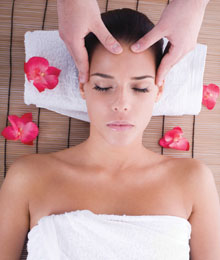 With summer in full swing, it's time to gear up for a season of sun-soaked days and fun-filled nights. But as your social calendar begins to overflow with garden parties, swanky soirees and exotic beach getaways, will you be looking your best?
Turn to Crystal Water Salon and Spa to help you uncover a slimmer, firmer, younger-looking you without the pain of surgery, the fuss of a fitness regime or the deprivation of a strict diet.
"Your appearance is the single most important accessory you'll ever have," says Tina Lombardi, who co-owns the salon and medical spa with her mother, Loretta Lombardi. "If you don't look good, you won't feel good."
Nestled in the charming town of Richmond Hill, Crystal Water Salon and Spa is a haven of relaxation and rejuvenation, offering the best in hair care and the latest in groundbreaking skin treatments.
Two such remedies are VelaShape and Refirme, which have received wild acclaim from daytime diva Oprah Winfrey. Both treatments use the revolutionary FDA-approved elös technology, that combines powerful energies to tighten the skin and reduce the volume and appearance of fat tissue.
The Refirme Skin Tightening system uses combined bipolar radio frequency and light energies to stimulate collagen production and create a firming effect in lax skin. The result is reduced wrinkles that give you a youthful, tightened, and toned appearance.
VelaShape contours and slims the body, by improving cellulite and reducing circumference in as few as four treatment sessions. As a safe, non-invasive alternative to liposuction, VelaShape can help you tackle your problem areas while restoring your confidence. "It's amazing, you definitely notice a difference," says Loretta.
The procedure is safe and painless, promising a bikini-ready body in no time. The best part: both treatments are unaffected by sun exposure and do not require any downtime, which means that you can get back to your day as soon as you leave the spa.
To maintain your fabulous new figure and achieve optimal results, combine your Vela sessions with a well-balanced meal plan created by Sandy McCormick, the spa's resident dietician. You can also try Crystal Water's microdermabrasion and skin rejuvenation laser treatments, which help to create a smooth, even complexion by shedding skin's damaged layers, removing age spots and freckles, and revealing the luminous skin beneath. "I do micro and skin rejuvenation," says Loretta of her own glowing skin. "She started four years ago and she looks younger now than she did then," laughs Tina.
An accomplished hairdresser of 25 years, Tina turned to her mother when she realized that she needed a partner in opening a new salon. "I went back to school so that we could do this together," says Loretta, who is the salon's skincare specialist.
Although the talented team works well together, they do have their moments. "People have told us that we should have our own reality show," laughs Tina. But they always manage to resolve their disagreements. "I think we have qualities that complement each other and that's a big help," Loretta shares.
Respected and admired within the beauty industry, Crystal Water is supported by a loyal clientele – some who even drive in from the city. Perhaps it's because when clients visit, they know that they'll be treating themselves to the best of the best. "We won't carry anything unless it's top-of-the-line," says Tina, who has toured as a hairstylist to music superstars The Backstreet Boys.
Perhaps another thing that keeps clients coming back is the unparalleled hospitality that Crystal Water offers. "They feel at home as soon as they walk in the door," says Loretta. " Sometimes, we'll have clients that come in at 10 a.m. for a facial and they're still here at 3 p.m. having coffee," says Tina, who's been known to cook for clients that come in for after-work appointments. "We barbecue, make pasta, and host Women's Nights. We can even rent the spa out if you want to have a girls' weekend or bachelorette party,"
she says.
With a customer-first approach that exceeds any expectations, Tina and Loretta are happy to accommodate just about any request. "Our home is your home," says Tina with a smile.
www.crystalwatersalonandspa.com
905.237.2188
41 Arnold Crescent Richmond Hill, ON