Turn, Turn, Turn – Must read books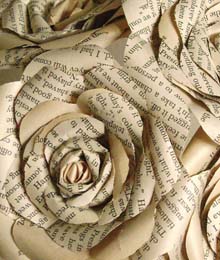 This is Paris by Miroslav Sasek
In the tradition of Miroslav Sasek's This is children's series, This is Paris paints a playful picture of the city for little world travellers. With colourful images depicting favourite corners of Paris accompanied by charming, informative text, This is Paris will ignite a passion for travel — and for the City of Love — in young readers.
The Five People You Meet in Heaven by Mitch Albom
Warm up your holiday season with Mitch Albom's beloved tale of life, death and the meaning of both. Through the character of Eddie, a Second World War veteran now working at an amusement park, Albom flies readers to the heavens for an enriching glimpse of the afterlife.
Virginia Wolf by Kyo Maclear
Inspired by the friendship of author Virginia Woolf and her sister, painter Vanessa Bell, Virginia Wolf takes little readers by the hand and paints them a whimsical, magic-filled adventure that will open their minds and kindle their imaginations.


Long Walk to Freedom: The Autobiography of Nelson Mandela by Nelson Mandela
Get up-close-and-personal with one of the 20th century's most coveted icons. In his autobiography, Mandela invites readers to track his influential footsteps, from his beginning in the humble tribal environment of his ancestors to his legendary resistance against the apartheid of South Africa.
Fancy Nancy: Poet Extraordinaire! by Jane O'Connor and Robin Preiss Glasser
French fancy-pants Nancy Clancy is back with an entirely nouveau adventure that your little ones are sure to gobble up. With her usual playful flair and inviting illustrations, Jane O'Connor sends Nancy — and her miniature readers — on an inspiring quest to create the perfect poem.
Wish You Were Here by Francesca Cavaliere
When Vaughan resident Francesca Cavaliere lost her son to suicide, she made a vow to raise awareness on mental health. Wish You Were Here is a true story of a family's journey through tragedy and newfound hope. Published by Vaughan-based Dolce Book Publishing Inc., part proceeds from Wish You Were Here will go toward supporting the Suicide Studies Research Unit, Mental Health Services at St. Michael's Hospital in Toronto.
The Rolling Stones 50 by Mick Jagger , Keith Richards, Charlie Watts & Ronnie Wood
July 12, 1962 found a musical foursome playing the blues in London's smallish Marquee Club. Now, at half a century old, The Rolling Stones have stirred up pop culture and their music has touched the walls of the world's largest stadiums. In this memoir, the band members scrawl out their reminiscences.
Little Princes by Conor Grennan
When Conor Grennan makes the horrific discovery that the children at Little Princes Children's Home in war-ravaged Nepal are not orphans but victims of human trafficking, he promises to deliver them safely home.
In Little Princes, Grennan shares his inspiring true tale
of mending broken families and chasing freedom.
Happier at Home by Gretchen Rubin
There will be no need to try and escape the everyday after drinking in this novel by happiness expert Gretchen Rubin. In the wake of her bestselling novel The Happiness Project, Rubin logs her nine-month-long journey to rediscover the meaning of home, resulting in a hilarious, heartwarming piece of work that proves that there is no place like it.
Atlas Shrugged by Ayn Rand
This classic dystopian novel will get your intellectual fires roaring. When America's most productive minds retreat from society in protest of their government's crushing regulations and taxations, the country falls to ruins — sending readers on a thrilling trek of mystery, philosophy, science fiction and romance.
Books available at Amazon.ca