Hit the Books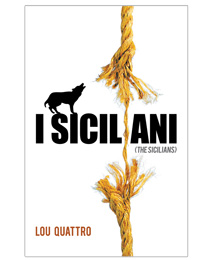 These gripping hardcovers will keep you under the covers with anticipation.
I Siciliani by Lou Quattro
Lou Quattro's time in Tuscany thrust him into the passionate, powerful environment of the Sicilian; an experience that inspired him to write this novel on the cognizant culture. www.friesenpress.com
Paris a Love Story by Kati Marton
In Kati Marton's enchanting memoir, Paris plays the poetic backdrop to a life tangled with romance, shattered hearts and fresh beginnings. www.simonandschuster.ca
1982 by Jian Ghomeshi
Exploring the soundtrack of his life, Jian Ghomeshi, host of CBC's Q, examines the musical moments and specific songs that shaped the course of his development. www.penguin.ca
The Casual Vacancy by J.K. Rowling
J.K. Rowling's debut adult-directed novel, an unexpectedly black comedy, promises to bend readers' minds and keep them on their toes. www.hachettebookgroup.com
Above All Things by Tanis Rideout
In this spellbinding mix of historical fact and fiction, Tanis Rideout explores the life and adventure of George Mallory, Mt. Everest's first victim. www.mcclelland.com
The Teacher Every Student Wants and Needs
By Jack Toth
As CEO of Impact Society, a non-profit organization focused on youth development, Jack Toth has a good grasp on how the young mind functions. In his eye-opening book, The Teacher Every Student Wants and Needs, Toth unveils that the secret to preparing a successful future for our youth lies not only in the class curriculum, but also in strengthening the teacher-student relationship.
www.impactsociety.com
28 Seconds by Michael Bryant
From Ontario's attorney general to being held in a jail cell, Michael Bryant recalls those fateful 28 seconds that prompted a re-evaluation of his life and the legal system he helped build.
www.penguin.ca
A Mother's Journey of Love, Loss & Life Beyond by Jennifer L. Scalise
In this heart-wrenching true story, mother-of-three Jennifer Scalise captures the indescribable feelings that tear families apart and bind them together when losing a loved one. Packed with warm stories and unforgettable memories, A Mother's Journey of Love, Loss & Life Beyond will both strengthen and comfort readers as they follow her path of pain to a road of renewed hope.
www.jenniferscaliseauthor.com