2012 Lexus CT 200h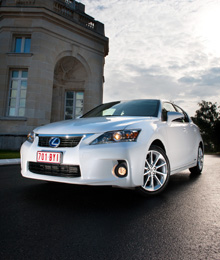 Toyota captures lighting in a bottle with its now wildly successful flagship hybrid, the Prius. Its popularity has skyrocketed in recent years, and the Japanese auto manufacturer has made a recent push to replicate that potent electric-gas magic, releasing various Prius iterations and hybridifying other models, like the Camry and Highlander.
Lexus is following suit. Riding the wave of Prius-induced hybrid fever, Lexus has padded its roster with a hybrid for virtually every segment. If you're on the market for a hybrid, there's a Lexus for that.
The most recent addition to the family is the compact CT 200h. While the Prius is tailored for the eco-minded utilitarian, the CT 200h is out to add some zest to the green. With a sporty esthetic, low price point and in that now-standard Toyota fashion, phenomenal fuel-economy, the sophomore CT 200h seems to hit a mark between eco-consciousness and enthusiasm. But is this lively looking hatchback too niche in an expanding hybrid market?

Obviously, when shopping for a hybrid, fuel economy should be at the top of your list. After all, that's why you buy them: to save at the pump. And the CT 200h is certainly no slouch here. Under the hood you'll find the same 4-cylinder, 1.8-litre engine/electric motor combination as in the Prius, a massive appeal for those weary of staggering gas prices. We're talking 4.5-L/100 kilometres an hour in the city and 4.8-L/100 km on the highway — that's class-leading economy right there. CT 200h drivers will revel in these phenomenal figures.
But while it shares the same heart as the Prius, unlike its unsightly cousin, the CT 200h is quite the looker. A cross between the Lexus IS and Mazda 3 Sport, the CT 200h exudes youthful exuberance. Its sleek body appears spry and capable, while its furrowed brow and piercing stare projects hard determination. It's as if this little hatchback has something to prove. And seeing that Lexus is trying to convince consumers it's a sporty hybrid, I'd say it does.
On the road, it is quite fun to drive. It's peppy and rather nimble, but again, it's a hybrid, so don't expect anything earth-shattering. It's certainly more enjoyable than most —you'd be hard-pressed to find a better handling hybrid — but unless 0-100 km in about 10 seconds is your definition of quick, your mind will be everything but blown.
If you're feeling frisky, switching to Sport mode increases throttle response and firms the steering so you can leave your neighbour's kid and his flashy tricycle in the dust. It also swaps the ECO indicator for a tachometer, which is a nifty yet pointless visual cue. It's all a novel show, but pushing this car with any fervour will see a notable drop in fuel economy. Encouraging aggressive driving in a hybrid really defeats the purpose of buying one in the first place. If you want speed, look elsewhere.
Inside, standard Lexus amenities, such as heated front seats wrapped in soft NuLuxe fabric, 8-way power adjustable driver seat and 4-way passenger, dual-zone climate control, Bluetooth capability, push-button start and in-dash LCD screen are all present. But my favourite feature is the remote touch option. It's placed perfectly in the centre console, allowing drivers to navigate the digital menu like a standard computer mouse. It works exceptionally well and is a welcomed feature in future Lexus vehicles.
Upfront is definitely comfortable, but backseat legroom isn't ideal and trunk space is certainly limited: don't expect to haul any sizeable items in this little guy. It feels more style over substance.
At the end of the day, that's probably how best to sum up the CT 200h. It looks sporty, but is limiting, placing it in a rather precarious niche. Sure, fuel economy is outstanding, and for a hybrid, there's enjoyment to be had behind the wheel — commuters will undoubtedly be pleased — but it's certainly not quick, even in Sport mode. Upfront is comfortable, but backseat passengers may be starved for space and storage is shallow. If you're aiming for a hybrid that's functional and economic, the Prius is still king, but if you're looking for style and luxury over practicality, the CT 200h is a sharp, eco-friendly option.
---
Specifications: Lexus CT 200h
Engine: 1.8-litre engine/Lexus Hybrid Drive System
Transmission: Continuously Variable Transmission (CVT)
Fuel economy L/100 km: 4.5 (city), 4.8 (highway)
Horsepower: 134
Base MSRP: $30,950