Makeup artist Rita Stirpe: A Brush with Beauty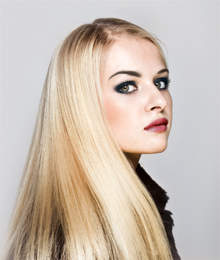 1. What are the three hottest beauty looks right now?
I'm excited about wine-stained lips, dark blue hues and bold brows.
2. What products can achieve each look?
Anyone can wear a rich colour on their lips, as long as it's the right shade. A semi-transparent wine is a perfect alternative to the red lip, which can be achieved with Mac's lipstick in Sheer Plum.
Blue is a fall must-have in your makeup collection. To create a a smoky eye using this colour, opt for a royal blue eyeliner as opposed to black. Try Mac's Navy Stain Powerpoint Pencil or Auto-de-blu Technakohl eye pencil.
Thick brows frame your face and give a bold look. Use Chanel Sculpting Eyebrow Pencil to fill in the gaps in your eyebrows.

3. In your opinion, what staple beauty products should every woman have?
Yves Saint Laurent concealer and highlighter, the illuminating moisturizer Mac Strobe Cream, Lash Fusion XL mascara and Benefit's Posie Tint Lip and Cheek Stain.

4. What are some tips and tricks in applying makeup for a night on the town and a day at the office?
When you're going straight from the office to a night on the town, there is no time to completely re-do your makeup, but with a few simple steps, you're ready to go from day to night!
Combine a darker shade to your already light eyeshadow that you have on during the day to create a smoky eye, and use a deeper lip gloss to enhance your pout. And don`t forget: add shimmer on your cheekbones for a glowing evening look.
5. In terms of skin care, what type of facial creams do you recommend to prepare your complexion for the cold winter months ahead?
For many women, the cold days of winter bring dryness to the face and as weather conditions change, your skin care routine should adapt. Remember, the winter sun can still damage your skin, so try L'Occitane Immortelle Precious Protection SPF 20. Hydration is delivered to your skin for a moisturized complexion all day.

www.makeupbyritastirpe.com
416.854.5858
Valentina
An unexpected bouquet of white Alba truffles, Amalfi orange blossom and Calabrian bergamot mingle with jasmine, amber and wild strawberries. www.valentino-fragrances.com
LIAISONS DANGEREUSES, TYPICAL ME
A burst of passion kisses man or woman with the sweet and deep notes of cinnamon, vanilla and Damascus plum. www.bykilian.com
Body Burberry
A fruity arrangement with rose and iris at its heart dries down to seductive musk, amber and sandalwood.
www.burberry.com
Karleidoscope
Violet combines with powdery notes of heliotrope and freesia for a couturier's vision of resplendent femininity. www.karllagerfeldparfums.com