Brett Wilson's Risky Business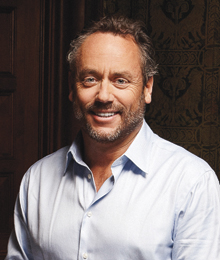 As much as I love the Hollywood classic Risky Business, I'm not sure I want to see a remake where former Dragons' Den star Brett Wilson rocks out in his underwear to Bob Seger's Old Time Rock and Roll. What's that? Wilson's Risky Business is a high-risk, high-reward investment TV show? That sounds more like it.
Based on the British series Beat the Bank, Wilson's latest on-air venture creates opportunities for investors and entrepreneurs alike. An investment-inclined couple is introduced to two opportunities and selects the one they fancy to finance; Wilson backs the other. The two sides then have 30 days to see their prospects flourish or fail.
"Real people show up with their own money," says Wilson, who entertained over 700 business opportunities on Dragons' Den. "We do real follow-ups on real deals in real time and we get real results."
Ranging from $5,000 – $20,000, these gambles swing from the more reserved, like buying and flipping antique musical instruments, to the heart-pounding, like backing a 19-year-old world billiard champion in a high-stakes game of pool.
But as dicey as these opportunities seem, Wilson doesn't send these investing adventurers up creek without a paddle. He unlocks the chest to his wealth of knowledge, advising and comforting financiers before they embark on their journey.
For investors, Wilson believes trust is key – trust in the company and trust in the owner's knowledge and ability to navigate their entrepreneurial ship. "I'm often investing in the person," says Wilson. "I better like the business, but I am not in the position to say that I know their business better than they do." If you're feeling uneasy about the person or their business, however, you might want to steer clear.
Aspiring entrepreneurs should be concerned with market assessment and modesty. Ideas may seem highly profitable on paper, but that doesn't mean they're infallible, as Wilson explains, "It isn't always the idea, it's sometimes a combination of the entrepreneur and the idea." Understanding how to properly market your business is essential as well.
"I love it when people acknowledge that they don't know everything. It's the guy or woman who knows everything that scares the heck out of me," he adds. "'I don't know, but I'll find out tomorrow.' That's a great answer." But you better find out tomorrow – Wilson doesn't like asking twice.
To see who cashes in and who kisses their coin goodbye, Risky Business debuts September 12 at 9 p.m. on Slice.