Reach For The Rainbow's Crystal Ball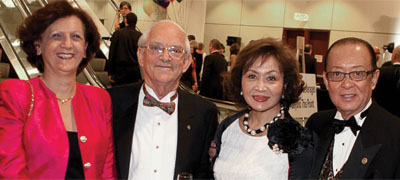 On Nov. 13th, 2010, the 24th annual Crystal Ball was celebrated in grand style and black-tie sophistication at the Metro Toronto Convention Centre. Staying true to its advocacy roots and message of inclusion, the over 1,200 guests spent an entertaining evening celebrating the children of Reach for the Rainbow while they danced the night away.
This year's Crystal Ball raised $800,000, which contributed to 40 per cent of the charity's annual budget. "We depend upon the corporate support given at the Crystal Ball to continue to help families caring for children and young adults with disabilities," says Donna Trella, founder of Reach for the Rainbow. "We would like to match or hopefully surpass our 2010 total when we celebrate our 25th anniversary in November so that our integrated programs and opportunities can continue to maintain our roster of over 700 participants and 39 partner camps!" Sponsors included Capital One, Scotiabank Group, Air Canada Kids' Horizons, National Post and Tech Data Canada.
Reach for the Rainbow is a not-for-profit organization that is committed to serving individuals with a complex range of support requirements, by helping to integrate children with disabilities into traditional summer camps and year-round programs across Ontario. www.reachfortherainbow.ca
Top left – Donna Trella, founder of Reach for the Rainbow and partner Clive Hobson. Top right – Rita and Milo Vassallo, former Consul General  of Malta, with fashion designer Chako Setoyama and James Matsumoto. Above left – TV personality and Reach for the Rainbow's official spokesperson Susan Hay with partner Randy Marshall. Above right – Kenny Loggins performs at the 2010 Crystal Ball.