Audio One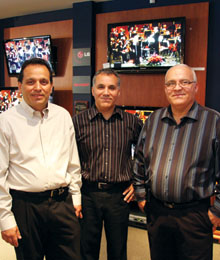 Clusters of plaques and certificates line the walls of Audio One's impressive store, evidence of its audio/video expertise and commitment to staying on top of new trends in home entertainment technology. A charming black and white portrait of the D'Ascanio family also hangs from the wall of a meeting room, alluding to the origins of the company. In the photo, the D'Ascanio brothers, Anthony, Carlo and Gino, are surrounding their late father. The passing of their dad in 1985 acted as inspiration for the brothers to unite and found Audio One, one of Canada's premier specialty retailers. "Audio One has been in business for 23 years, since 1986. We're still a family-run business. And it really came from a passion for audio/video," says Gino D'Ascanio. "I think one of the best things about working with family is that there is a high level of trust and confidence in each other. We've been at it so long, we've each found our own niches within the company."
Audio One specializes in retail as well as custom installation of home entertainment systems. The retail showroom boasts eight lavish demonstration rooms that allow customers to audition and discover the latest audio and video products. "The second part is the custom installation side, where we do everything from a simple mounting of a TV or speakers to lavish home theatre rooms and full automation systems that can control everything in the home from music, video, lighting, climate and security," says D'Ascanio. Gino is primarily responsible for the retail and operations side of the business, while brothers Anthony and Carlo work almost exclusively in the custom installation division.
The family atmosphere doesn't stop at the three siblings. Staff consists of trained and skilled professionals, all passionate about the industry. Many of them have been with the company well over 10 years. "They are part of our extended family and are all vital to what makes Audio One special," explains D'Ascanio. "We believe customers should expect a high level of quality from both our people and the systems we install." Audio One's 23 years of experience speaks volumes to what customers can expect. "We have installed an excess of 2,500 home theatres in our history," estimates D'Ascanio.
The clientele at Audio One ranges from electronic equipment enthusiasts to successful business professionals. "Our most affluent customers can sometimes be the least technologically savvy. Our job is to make our systems so easy to use that they're not even aware of the sophisticated technology in their home," say D'Ascanio.
D'Ascanio provides insightful reasoning for the growing popularity of home theatres in recent years: "The world is a bigger, scarier place than it used to be. I think a lot of clients want a home theatre to keep the family at home. It's great bonding and it's a safety thing; you know where your family is. Plus it is a lot of fun."
The brothers are all Vaughan residents. "We love this area. Vaughan offers so much that there is nowhere else we would want our homes and our business to be located."
www.audio-one.ca, 416.665.0749