Maple Academy of Dance: Experience the Excitement of Dance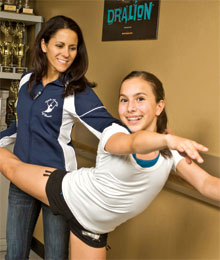 Dance is an incredible pastime for children, it really teaches dedication, commitment, and the perseverance to achieve goals," says Ginette Guimond, owner of Maple Academy of Dance.
At this outstanding studio in Vaughan, dance is a way of life. Led by a highly skilled team of instructors headed by Guimond, the students of Maple Academy of Dance learn the basics and then thrive, becoming confident, talented dancers, ready to reach any goal they set. Offering a fun recreational program and a competitive curriculum in all streams of dance, including ballet, hip hop, musical theatre, jazz, tap and acrobatics, students are able to find the route that's right for them.
"We just want to instill the love of dance in everyone," says Guimond. Registration runs from August 17th to the 28th, 2009.
www.mapleacademyofdance.com
T: 905.303.0652
4040 Major Mackenzie Drive #3, Woodbridge, ON