Signature Developments: Making A Unique Mark On The Industry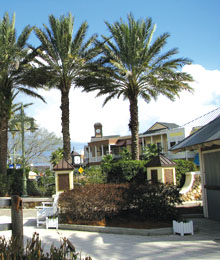 Whether you're talking about a convertible roadster or a diamond necklace, most quality manufacturers offer one rare product. Created to enjoy all that life has to offer, it's usually a special series that distinguishes itself, symbolizing a personal touch. But when it comes to Signature Developments – a builder and developer that takes pride in being unique, bold and eco-friendly – everything is one-of-a-kind.
With a rich history in the construction industry, Signature Developments is part of the Clearway Group of Companies. Founded just five years ago, the company uses a set of fingerprints as part of its branding. The green etched image conveys a hands-on, tailored product built with nature in mind. "We're innovative and different in the way we think," says Sebastian Mizzi, development manager and planner. "We bring a unique, customer-centric approach to our products. We want to change the playing field in the building industry by embracing trends like the green movement, delivering unique product offerings and avoiding 'me-too' product offerings." True to his word, Mizzi has already developed a stunning plethora of superstructures, from commercial plazas and industrial buildings, to hockey arenas and custom homes. Of course, nothing will compare to what's around the corner.
Signature's biggest project, dubbed Triumph, boasts a pizzazz-infused 130-unit retirement condominium in King Township. Surrounded by the Schomberg River, the property was chosen to maximize the surrounding environment. "We turned down sites on open fields because it went against our philosophy of balancing nature with living," Mizzi says. Besides strutting a gorgeous countryside, Triumph will be a Leadership in Energy and Environmental Design (LEED) building, conforming to eco-friendly standards like the 7 World Trade Center in New York. And that's not even the highlight. "Triumph will include amenities such as an indoor pool and spa, exercise facility, game and party room, and a stunning rooftop patio with a fire pit, walking paths, and a garden area."
For buyers interested in the best of both worlds, Signature is offering the ultimate snowbird package in Wildwood, Florida. The concept is great, allowing the purchaser to live the dream of owning a second home for the same price as one. "You can buy a Triumph condo in Schomberg and a house or villa down south, and still put money away," Mizzi says. "You can sell your house here, and for approximately $350,000 you can have both places in Schomberg and Florida." While Schomberg buyers aren't obligated to purchase a Florida home, Signature will offer an expenses-paid trip for two, just to give a peek. "They can fly down, feel the area, and figure out if it's something they want to do." The idea could be tempting. Wildwood is located just beside The Villages, a golf cart trailed community with eight championship courses, country clubs, polo fields, fitness centres and an archery range. Just 45 minutes from Orlando's Disney World, even the grandkids might want to stop in occasionally.
And that's not all. At a time when the city of Vaughan is experiencing exponential growth, Signature has secured an eight-acre heartland for buyers that are a little more serious about their space. The Mackenzie Ridge community features 60 and 70-foot ravine lots between 150 and 230 ft. deep, nestled just north of Eagles Nest Golf Club at Dufferin and Teston roads. "These are estate lots, which attract very discerning buyers who know exactly what they want," Mizzi says. "The concept allows someone to build their dream home their way, so every house on the court will be completely different – it won't feel like a subdivision." To help along each step of the way, Signature will assist clients in the planning process.
For a company that has just started advertising, Signature is already creating quite a stir. With an affinity for originality and a growing reputation, Signature Developments offers exceptional buildings engraved with a personal touch – much like an autograph. www.signaturedev.ca