Money Issues — A Buyer's Market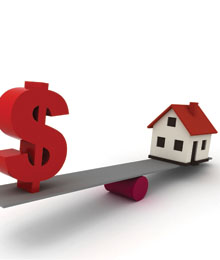 If you've been longing for your dream home, now's the time to turn that reverie into reality. Yes, it's true: lower interest rates, a 10 per cent reduction in home pricing and an abundance of builders' incentives is pushing economic woe aside and providing you with the opportunity to snag a home priced at a modestly lower price tag. "Because of the current market, it is more realistic and much more affordable to own a home. The incredibly low interest rates assist as well," says Lou Grossi, broker and manager of Intercity Realty Inc., Brokerage. "In some ways it will be a slower year … that's for sure. But there will be a lot of opportunities for people," he says optimistically.
Early this year, Intercity began experiencing an influx of sales, when just a few months ago economic instability quashed consumer confidence during the second half of 2008. "The start of the year
seems to have – at least in our situation – picked up a burst of sales that have taken place immediately after the decreased interest rate announcement," says Grossi. Last year, Intercity successfully completed over 1,500 transactions.
As a full-service marketing and sales realty firm founded in 1981 by Grossi's father, Vittorio Grossi, Intercity Realty's multicultural staff of 100-plus agents has guided its strong client base with experienced advice and knowledge.  "As a company, we are true believers in providing the best service possible," explains Intercity's Director of Marketing Alda Neves. The company boasts itself as four-pronged, since its portfolio caters to new homes and condominiums,  residential re-sales, industrial commercial investment (ICI), and land transactions. "With Intercity, you get over 40 years of insight and value-added consulting," says Neves.
By combining exceptional service with competitive edge in an economy that will soon adjust itself, Intercity is certain that it will prevail. "Most of us are looking for certainty, and Intercity has programs that will provide cost-certainty to a buyer," says Grossi, who has over two decades of experience in the industry. "And we're not just sitting back and waiting for the client to come to us, we're going out there and creating personal relationships with these people – the old-fashioned way," adds Neves.
Of course, no one can foretell whether or not housing prices will continue to fall or rise sharply in the near future, but with 2009's low interest rates and increased affordability, you can put a stop to your wishful thoughts and actually walk into that home you've been dreaming about. "It has never been more affordable to purchase a home, and I've been in this business for 25 years," says Grossi. "If I were interested in buying a home, I'd be in the market to see what's out there – and put in an offer!