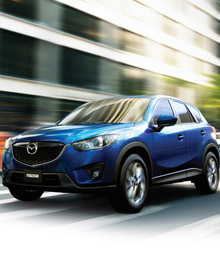 It seems like every automotive maker is racing towards the compact SUV segment as of late. It's become a crowded party, but arguably not the most exciting. Mazda is looking to change all that by tossing some "zoom zoom" into the mix with its brand new CX-5.
This compact SUV is Mazda's attempt at breathing life back into the tired Tribute, and the Japanese are giving it their all. It's the first Mazda fitted with the entire range of the automaker's new SkyActiv Technology, which includes new engine, transmission, body and chassis designs that are meant to increase fuel efficiency while strengthening safety and maintaining a dynamic, fun-to-drive feel.
Under the hood, the SkyActiv-G, 2-Litre engine powering the CX-5 delivers a modest 155-horsepower and 150 lb-ft of torque. But what really cranks heads is the engine's impressive 13:1 compression Read more
When taking a look at automotive companies in general, it's easy to see the many ups and downs that are experienced over the years, whether the circumstances are based on economic climate, consumer taste, product appeal or financial health. As can be seen in today's fast-paced auto industry, mighty corporations that appeared invincible can easily be humbled by a variety of issues. The most compelling is when products start to lose appeal, as in the case of the Land Rover Group. Just a few years ago, its product portfolio was starting to look stale and fall behind the leaders in the premium segment. The company realized its shortfall, and has since reinvented the brand, offering appealing premium SUVs that now cover the compact premium crossover, mid-size and large premium SUV segment. The big news is the launch of the radical 2012 Range Rover Evoque premium crossover SUV, which replaces the aging Read more
Practical transportation is essential for modern urbanites. Sure, that desire for a sexy sports car may hang like a painting in your mental rear-view mirror, but for those morning car pools, after-school soccer practices and weekly grocery runs, you'll need something more pragmatic. Depending on your taste and lifestyle, these two crossovers provide plenty of utility.
Read more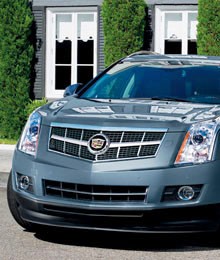 Cadillac's latest entry in the hugely competitive crossover luxury segment is the SRX five-seater crossover SUV. The mid-size luxury SUV segment includes competitors such as the Lexus RX350, Lincoln MKT and Buick Enclave. There's also the smaller Mercedes GLK and Audi Q5 to add to this group. Newly released in 2009, the Cadillac SRX designers thoroughly revised the entire vehicle from its seven-seater predecessor. Heavyset, the overall length has been reduced a parking-lot friendly 4.6 inches.
Continuing Cadillac's art and science design theme among its model lineup, the polarizing SRX crossover SUV gets noticed thanks to its sharp creases and angles that boldly stand out. Hard to miss is the huge chrome grille punctuated by a large oversized Cadillac badge resting between two huge headlights, giving the front-end a look that is unmistakably Cadillac. It looks like the stylists Read more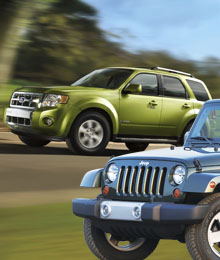 Ford Escape hybrid
SUV practicality without fuel consumption worries.
With the fuel efficiency gains of gas electric hybrid power, it wasn't long before SUVs started adopting this green technology. Ford was one of the early adopters, after Toyota, to equip its popular Escape compact SUV with a hybrid system. Ford launched the Escape Hybrid early in the decade and since then the model has been updated and modernized to its current form. Having driven the Escape on an extended trip, the 177-combined horsepower of the 2.5-litre four-cylinder gas and electric hybrid motor feels energetic and gives surprising acceleration. At one point, with no highway traffic and the gas pedal floored, the Escape impressed by reaching "hello, officer!" speeds effortlessly. The only downside was the aural whine of the engine as the continuously variable transmission Read more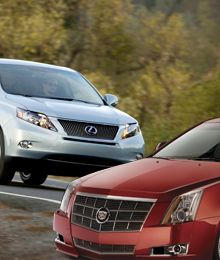 Not too long ago a hybrid gas electric vehicle was viewed as some sort of science experiment. Fast-forward a decade and hybrid vehicles are now all the rage and moving into the premium segment. Lexus was one of the pioneers in offering a hybrid in its line-up of luxury vehicles so it was only natural for Lexus to offer a hybrid version of its popular RX350 SUV in the form of the RX450h hybrid.
Style-wise, the RX450h is almost indistinguishable from its gasoline-powered sibling, the RX350. Only a trained eye will spot the hybrid's specific styling cues, such as the unique wheel design, subtle blue hybrid badging and light blue tinted tail lamp lenses. A cool exterior feature is the available LED headlamps that give the RX450h a high-tech appearance. Read more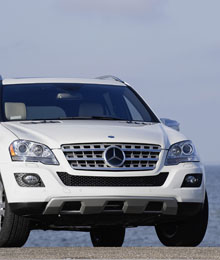 With the winter upon us, and our beloved sports cars sitting dormant in the garage, luxury SUVs take centre stage.  In the North American market, where SUVs have shown their popularity year after year, the competition is fierce.
Desired by many, and driven by a lucky few, Mercedes Benz is synonymous with luxurious driving. The 2010 ML350 BlueTEC is no different.
While some argue that it is a necessity of winter driving, four-wheel-drive often comes at a premium. It's often more expensive to fuel, more expensive to maintain, and more expensive to purchase.  And while the ML350 is by no means an inexpensive vehicle, with a base price tag of $58,900 buyers are getting a lot for their money. Read more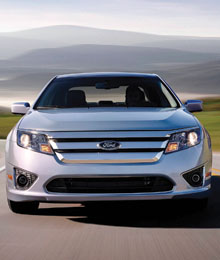 Look at a highway in any city and you'll notice the same thing – a sea of air-polluting machines. But travel doesn't have to be damaging, especially with these environmentally friendly vehicles. Read more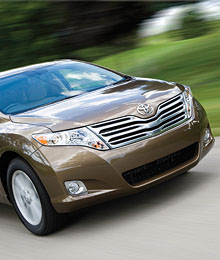 Lately, there's been quite a bit of hype about crossover utility vehicles (CUVs). Are you wondering what the difference between a CUV and an SUV is? Crossovers like the Ford Flex, Mazda CX-7, Jeep Compass and the soon-to-be-released Toyota Venza offer utility in a five-door body style, with handling dynamics that feel very much like a car. Shared machinery includes the chassis, power train and key components. Front-wheel-drive is usually standard, with all-wheel-drive available. Some CUVs, like the Toyota Venza, offer additional SUV-like ground clearance, sans the bulky look. Read more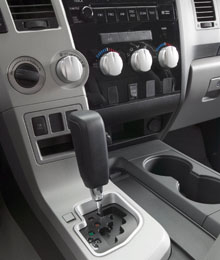 Look back and discover 2007's notable entries from a few auto manufacturers.
The big news from Toyota in early 2007 was the launch of its full-size Tundra pickup that finally made it a legitimate player in the half-ton segment. There was no mistaking it: the gargantuan exterior put the Tundra shoulder-to-shoulder with the established brands in the field, which include the Chevy Silverado, Ford F-150, Dodge Ram and Nissan Titan. Backing up the handsome and butch-like styling is considerable firepower under the hood. How does 381-horsepower from the high-tech 5.7-litre motor that easily shames most high-performance cars through the quarter mile sound? But most impressive is its 10,000-pound towing capability. Read more