Cadillac SRX Turbo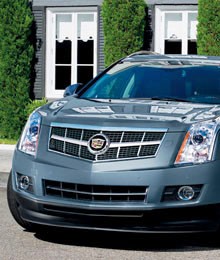 Cadillac's latest entry in the hugely competitive crossover luxury segment is the SRX five-seater crossover SUV. The mid-size luxury SUV segment includes competitors such as the Lexus RX350, Lincoln MKT and Buick Enclave. There's also the smaller Mercedes GLK and Audi Q5 to add to this group. Newly released in 2009, the Cadillac SRX designers thoroughly revised the entire vehicle from its seven-seater predecessor. Heavyset, the overall length has been reduced a parking-lot friendly 4.6 inches.
Continuing Cadillac's art and science design theme among its model lineup, the polarizing SRX crossover SUV gets noticed thanks to its sharp creases and angles that boldly stand out. Hard to miss is the huge chrome grille punctuated by a large oversized Cadillac badge resting between two huge headlights, giving the front-end a look that is unmistakably Cadillac. It looks like the stylists may have been trying too hard with the front-end, as it looks too blunt from some angles. Being a Cadillac, there's no shortage of chrome trimmings and adding to that is the available chrome 20-inch wheels that is a must-have styling accessory.
While the exterior strikes a bold – some would say overwrought stance – the interior gets kudos for its level of detail and refinement and should impress most folks once they get inside. Facing the front occupants is a very modern and sophisticated-looking dash. The attractive design continues through to the door panels, giving the cabin a classy ambience. The cabin's impressive centre stack features a jewel-like analog clock, high-end materials and a large retractable navigation screen that disappears into the upper dash when not in use.
Thickly padded high-grade materials are used throughout and together with comfy leather seating and wood trim inserts, the inviting cabin delights the senses. In a vehicle of this class, all the expected luxury and high-end convenience items like the Bose surround sound premium audio, heated front and rear seats, power lift gate and panoramic moon roof are available on top of the already comprehensive standard equipment.
In terms of cargo-carrying utility, the generous trunk area can easily expand with the 60/40-split folding and reclining rear seats.
Under the hood of the SRX resides a 260-horsepower 3.0-litre V-6 with direct-injection. Available is the more powerful but smaller turbocharged 2.8-litre V-6 that cranks out 300-horsepower and a healthy 295 pound-feet of torque at 1,850 r.p.m. With a heavy curb weight north of 4,000 pounds, it's a smart choice to go with the turbocharged motor! Both V-6 engines come equipped with a six-speed automatic transmission offering seamless and refined operation. The optional Northstar V-8 engine that was offered in the previous generation seven-passenger SRX is no longer available. One of the reasons, besides fuel economy, is that the previous V-8 was designed for a rear-wheel-drive chassis and it would probably have cost a significant amount to reengineer the motor to fit in the new chassis that is front-wheel-drive based. For added utility, the SRX is rated to tow up to 3,500 pounds.
Offered is a choice of either front-wheel-drive or an on-demand all-wheel-drive system for driving dynamics in all types of weather. With Old Man Winter approaching, it's wise to select the all-wheel-drive option. The all-wheel-drive system can effectively transfer power from the front to rear wheels, giving the driver control and confidence on any road surface – especially in deep snow. A safety feature most appreciated is the vehicle stability control that helps stabilize the SRX in slippery conditions.
Smaller, bolder and more upscale, the 2010 Cadillac SRX crossover will appeal to those who want the new non-traditional American luxury that Cadillac is aiming towards.
www.cadillac.ca
SPECIFICATIONS
Cadillac SRX Turbo
Engine: 2.8-L V-6 DOHC 24-valve Turbo
Horsepower: 300
Torque: 295 lb. ft.
Fuel economy L/100 km: City – 13.6 / Hwy – 9.1
Transmission: 6-Speed Automatic Transmission
Drivetrain: On-Demand All-Wheel-Drive
Base price: $47,175