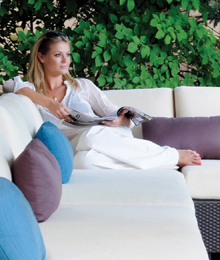 If summertime barbeques and backyard parties are on your menu, don't just settle for the traditional passé plastic of big box store furniture – add some style and comfort. And where better to liven up your alfresco living space than at Andrew Richard Designs (ARD).
Founded by brothers Andrew and Richard Bockner, the team at ARD feels backyards and patios are extensions of the home and should create the same comfortable feelings as any other room in your dwelling. "It's about lounging and enjoying it, having the space to do so, letting your mind go, distressing and relaxing. That's what I believe outdoor living is about," says Andrew Bockner.
Striving to refurnish dated outdoor memes, Bockner crafts furniture for the modern individual who craves tranquil feelings from their outdoor seating. "The way to go is to get some Read more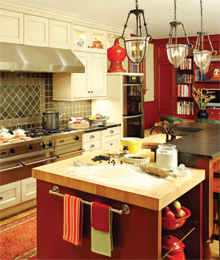 Dorothy professed her love for the home in the iconic film The Wizard of Oz for a reason. Home is the one place you can truly be and feel like yourself, so adorn it with items that you treasure. Discover a few home décor ideas that we fancy. Selecting pieces that reflect your personality and style will create a space that you will feel comfortable in.
1. Irpinia Kitchens: Preparing a meal will no longer feel like a monotonous chore in this custom kitchen, courtesy of Irpinia. The trifecta of red, cream and black is accented with sturdy, silver hardware. You'll feel so content in this charming space that tears will cease to exist while chopping onions! www.irpinia.com, 905.780.7722 Read more