Mi Casa, tu Casa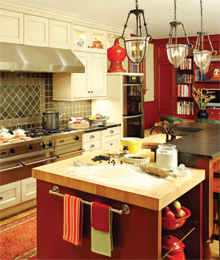 Dorothy professed her love for the home in the iconic film The Wizard of Oz for a reason. Home is the one place you can truly be and feel like yourself, so adorn it with items that you treasure. Discover a few home décor ideas that we fancy. Selecting pieces that reflect your personality and style will create a space that you will feel comfortable in.
1. Irpinia Kitchens: Preparing a meal will no longer feel like a monotonous chore in this custom kitchen, courtesy of Irpinia. The trifecta of red, cream and black is accented with sturdy, silver hardware. You'll feel so content in this charming space that tears will cease to exist while chopping onions! www.irpinia.com, 905.780.7722
Roomy:
The genius designers behind Italian home design company Calligaris bring you these standout pieces. Cute tangerine stools prevent the clean, modern lines of this Magic-J folding table from looking austere. Take the table to new heights – literally – with the press of a button.
www.roomyinteriors.com
, 416.203.6813
3. Etsy: Rid your home of clutter by storing magazines, pillows and throws in this chair with a detachable top. It's guaranteed to get your guests talking. www.etsy.com
4. Bullfrog & Limitless: A retro floral pattern and geometric stripes provide these sofas from Bullfrog & Limitless with an offbeat touch. The soothing colour palette will put you at ease while watching cringe-inducing singing auditions on American Idol. www.limitless-toronto.com, 416.366.5288
5. Granite Transformations: Shimmering mosaic walls appearing to ooze 24-karat gold highlight this elaborate stairwell from Trend USA. http://new.granitetransformations.com, 905.847.3554
6. Muti: A red organza rose pillow rests atop sleek, shiny black leather; the combination is both edgy and sexy. www.emuti.com, 1.800.705.2611
7. Bestow: Once you've managed to take the plunge and remove the pretty packaging, this candle laced with gardenia, juniper berry, vanilla and sandalwood will make your home smell heavenly. www.bestowboutique.com