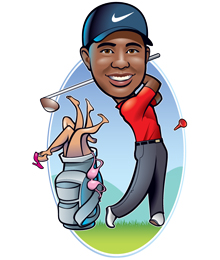 The media has successfully intertwined itself into the DNA of professional sports, an arena where previous athletes that stood tall above their sport were not as aggressively marketed as they are today. Find out how the business side of sports has broken the loyalty of the game, while influencing individuals to follow the legacy of its given leaders.
Tiger Woods
Golf is an experience that has been highlighted by many great players over the years. This refined game is the kind of experience that can take six hours out of your busy schedule without regrets. Tiger Woods has motivated new groups across the world to tap into this skilled pastime, and tune into televised golf like never before. Woods wasn't simply good for golf, for a while he was golf. Without him, the sport will never be the same. Read more
Pockets of hockey dads huddle and conspire while drinking their warm, morning coffees within Phil White Arena in Toronto. You can hear whispers of advocacy, feel an atmosphere of community and guess that each group is thinking the same thing: Why did we have to do this?
"I don't think the Greater Toronto Hockey League [GTHL] cares about concussion injuries," says Neil Clifford, one of five directors running the new Toronto Non-Contact Hockey League (TNCHL). He also coaches his son's team, one of the league's three teams made up of 11-and-12 year-olds. Behind the bench, he keeps warm by hiding under a tightly pulled blue Chevy Re-Evolution cap, his jacket's high collar cutting across his crimson cheeks. Read more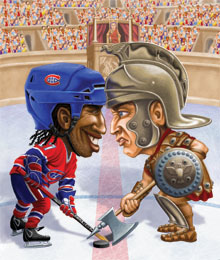 The role of the barbarians who find a home in Emperor Bettman's ring is to forge the fury of balance and clenched fists while pulverizing the face and skull of the enemy. Any time players drop the gloves, they take part in the controversial piece of the dynamic hockey jigsaw puzzle. To witness a live NHL fight, one is subjected to viewing hockey's highly popular sideshow. Fans revive the Roman Empire, as chants from the Dark Age fill the arena with adrenaline, in the heat of the moment screams of "kill him" and "rip his head off" fly through the air with every jab and hook that lands flush on the opponent's visage. This physical frenzy does not need to be dramatized, although NHL commissioner Gary Bettman donning the robes of Julius Caesar with a laurel wreath atop his brown comb-over would be magnificent. The difference between your everyday hockey arena and the Colosseum is that bloodthirsty Romans implored their gladiators to kill whatever stood in their way Read more