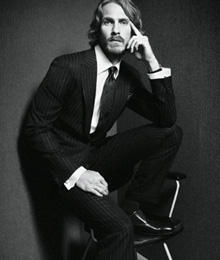 Perfect for outdoor weddings, Confetti System's unique Crystal Pinatas shine like stars under a delicate white tent. This innovative creation is available in a variety of custom colours, and is pre-filled with handmade confetti. For those who prefer to place personalized items inside, a hinged door offers the option. www.confettisystem.com
Nude sheer lace: a honeymoon must-have. Settle for nothing less than the refined romanticism of Rosamosario T-Amo's lace camisole with sweetheart neckline and spaghetti straps. www.net-a-porter.com
Australian fashion designer Kristi Bonnici offers unconventional brides something new. From her most recent Moments of Trespass bridal accessories collection, this Loneliness Leaves Us Headband sleekly juxtaposes handmade silk satin camellia with Read more
Nothing looks better on a man than a sophisticated, impeccably fitting suit. Housing a plethora of styles, from fashion-forward chic to traditional favourites, Mondo Uomo owner Salvatore Greco knows this better than anyone else. With nearly 25 years of first-hand experience in men's formal wear, this fashion connoisseur will style you famous for whatever occasion you're attending.
With its contemporary formalwear line boasting designer fashion from Ermenegildo Zegna, Dolce & Gabbana, Just Cavalli, Thierry Mugler, Kenneth Cole and Hugo Boss, finding the suit of your dreams might be a challenge. "Planning a wedding can be a very stressful time," acknowledges Greco. "Because we recognize that, we are here to help you each step of the way. A fashion consultant will come to your home the morning of your wedding day to ensure you are camera-ready," adds Greco. Read more
Roaming the Eternal City in search of the good life.
When it comes to la dolce vita (the sweet life), Rome definitely stakes first claim. Not only was this picturesque Italian city the setting of the 1960 classic film by the great Italian director Federico Fellini, it also boasts a rich history, ancient art, wonderful food and dazzling fashion finds. Also known as La Città Eterna (the Eternal City), Rome dates back more than 3,000 years and during most of this time, the city has continued to entice tourists from a far with its mix of old and new elements.
Wandering through the streets of Rome, you'll be delighted to spot pieces of art at almost every corner. Read more