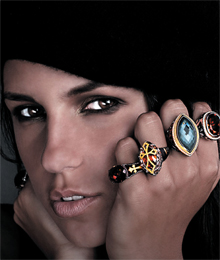 Fashion luxury jewelry is for those with an innate desire for high fashion. They're the modern-day movers and shakers, social butterflies and reputed gift givers who appreciate timeless pieces but are also in tune with trends. Cupido's contemporary interpretation of luxury brings brands like Pandora, Michael Kors, 3H Italia and Hermès to the table. Cupido is now introducing three new lines, ensuring its long list of luxury products never stops growing.
Taken from the Latin word for desire, Cupido stays true to its name. Jeff Karadjian, Cupido's co-founder, swears by featuring products that he is passionate about and that customers long for. As a leader in the jewelry industry, Cupido prides itself on being the first to carry a product. "We are at the beginning of the trends overseas, so that we are the trendsetters in the Canadian marketplace," says Karadjian. Read more
On November 29, 2007 Cupido held it's official Grand Opening at Vaughan Mill Mall, a unique lifestyle concept brands offering the freshest fashion trend in Jewellery products from Italy. Cupido offers its customers a new and unique way at purchasing the newest in jewellery in an environment that is comfortable and enjoyable.  This event also marked the official Canadian introduction of four brands exclusive to the Cupido brand, DeMaria Italy, Brosway Jewels, 3H Italia watches, and Gioie & Co sterling silver jewellery collection.