Cupido, A Trendsetter in the Jewelry Industry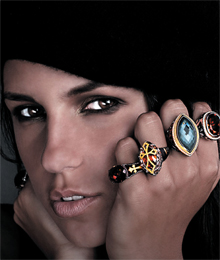 Fashion luxury jewelry is for those with an innate desire for high fashion. They're the modern-day movers and shakers, social butterflies and reputed gift givers who appreciate timeless pieces but are also in tune with trends. Cupido's contemporary interpretation of luxury brings brands like Pandora, Michael Kors, 3H Italia and Hermès to the table. Cupido is now introducing three new lines, ensuring its long list of luxury products never stops growing.
Taken from the Latin word for desire, Cupido stays true to its name. Jeff Karadjian, Cupido's co-founder, swears by featuring products that he is passionate about and that customers long for. As a leader in the jewelry industry, Cupido prides itself on being the first to carry a product. "We are at the beginning of the trends overseas, so that we are the trendsetters in the Canadian marketplace," says Karadjian.
Tsovet is the contemporary watch line that Cupido has recently adopted. Exclusively distributed, this product pushes the boundaries with industrial design. Perfectly complementing the well-received 3H Italia brand, Tsovet appeals to the trendsetting male. "It's more avant-garde," explains Karadjian.
With diverse designs and interchangeable straps, Philip Stein watches will give you a sophisticated or laid-back look this summer. But with Philip Stein, looking good is only half of the equation. A study published in the Sleep Diagnosis and Therapy Journal has proven that Philip Stein watch owners are sleeping more soundly at night, thanks to its Natural Frequency Technology, which leaves the body relaxed.
Bringing brands to Canada from around the world, Cupido will also be carrying a London-based collection. Robert Tateossian is the man of the hour, being the first to put watches on cufflinks. The self-titled line has now expanded to include a wide range of jewelry. With these brilliant new brands, Cupido is staying at the forefront of the jewelry industry, sharing with its customers only the most desirable.
www.cupidodesigns.com
Locations: Vaughan Mills Shopping Centre: 905.669.8522; Bayview Village Shopping Centre: 647.346.2176