So Divine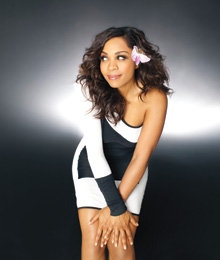 In a world where music is often treated like bubble gum, consumed and discarded fleetingly, how does an artist keep her music fresh, distinct and relevant? Sometimes, it means turning back the clock.
After a three-year hiatus, Canadian R&B singer Divine Brown returns to the spotlight with her hip-swaying blast from the past, "Gone." Its infectious hook — "I'm Gone!" — accented by the ba-dant-dun-da-dant of bellowing horns, set to the steady rhythm of underlying keys and choir-like harmonies, transports you back to the vinyl-spinning, radio-rocking days of 1960-something.
This first single comes on the cusp of her third album, Something Fresh, slated for release in early 2013. She describes the album — produced by Woodbridge-natives the Rezza Brothers — as a more sophisticated amalgamation of her first two, Divine Brown, which mixed soul and R&B with a touch of jazz, and The Love
Chronicles, which won her a Juno in 2009.
After experimenting and recording for the last few years, the timing felt right to make her return. "I want to just find a comfortable medium between R&B, soul and pop," she says of her new record's sound. Because, "That's who I am."
While "Gone" belts out a tune of parting from a love gone wrong, Brown's soulful vocals are back, and it feels so right. As she notes, "If it's refreshing and soulful, it really hits you emotionally."