Vitanova Foundation: A Second Chance at Life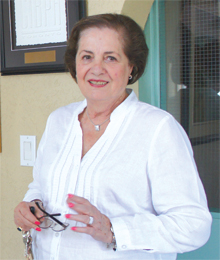 Some of us travel down roads that split into darkness until we can't see where we end up or how we got there in the first place. It's late afternoon and the sun beats down on idling drivers, frustrated by the wait that comes with a freight train charging through a railway crossing like the speed of life. The horizon appears as the gate arms rise, and, like the train, cars speed off into unknown destinations. Turning off a traffic-laden Vaughan road, a utopia of green and tranquility draws you towards a place that has driven 15,000 lives toward the right direction.
The Vitanova Foundation is a former private residence-turned-rehabilitation centre based on a client-centred treatment philosophy. I walk through double doors and take a seat on a green couch in the foyer to meet Franca Carella, the monarch of a not-for-profit corporation that has helped to rebuild the lives of individuals and families shattered by substance abuse for more than two decades. As I wait for her visitors to subside, I hear babbles of water from where I'm perched, across a winding staircase that descends upon an indoor pool. I can see the milky blue water running to the edge, where thick black letters spell 'Deep End.' But the words are upside down, meant to be read for those on the other side, those who have hit rock bottom and have yet to – either from shame or denial – be buoyed from murky waters.
Mother Teresa habitually spoke of how humanity suffers from loneliness, how humankind will clutch at straws, searching for reasons to feel optimistic when there is no hope to be found. "I couldn't tell you any good things about myself, I thought my life was going to end," says a Vitanova client who asks for anonymity. Well on the road to recovery, it was his use and distribution of psychedelic drugs that brought him to his knees and up the stairs to Vitanova, much to the content of his mother. His life soon turned around, he says, he now has ambitions. "I was starting to get things back at Vitanova. I don't feel so alone when I'm out there." Past clients have gone on to fulfill dream careers, from lawyers and accountants to plumbers and mechanics. A second chance at life is what Vitanova stands for, and it's here that isolation drowns.
The walls of Franca's office are covered with plaques and photos that leave new frames resting on chairs. Her eyes are weary yet kind, a beacon of hope in a room where much sorrow has transformed into happiness. "I always had faith in God, I always felt there were green pastures somewhere. And there's purpose for our life or else we would be dead, why would we be alive, just to hold things for ourselves? This is what I don't understand," says Franca. You begin to not understand it either, and question your lack of contribution to a societal problem that takes a toll on our families, hospitals and prisons. According to a report by the Canadian Journal of Psychiatry in 2007, 11 per cent of Canadians struggle with drug or alcohol abuse. The report estimates that in 2002, Canada spent $23 billion on alcohol and illicit drug use and misuse, including costs of direct health care and law enforcement.
It was during the end of the '80s when Franca discovered the need for a substance abuse centre in the community. At the time, she was running VitaSana, a local magazine reporting on family and community health issues. She received hundreds of letters from parents, desperate to save their drug-dependent children. In their voices, she heard her calling. "Franca's vocation is motivated by her deep desire to help people," says Vaughan Mayor Maurizio Bevilacqua. "As individuals, we are not measured by our status or title but our ability to serve and our willingness to give of ourselves for a higher calling, a higher purpose, like the one she has committed herself to through her work with the Vitanova Foundation. She has been gifted with the great ability to serve, and as a result, has touched the lives of thousands of people in a very meaningful and positive way … through the power of trust, respect and compassion, and driven by a spirit of generosity, she has built an organization that offers a new beginning to many individuals who are seeking hope." The mayor agreed to be the honorary chair at this year's annual Vitanova fundraiser, where Franca hopes to raise $200,000.
A trained nurse, Franca travelled to over 40 rehabilitation centres across North America and Europe, studying their practices and incorporating the most effective therapeutic components she found for her program at Vitanova, which asks that individuals recognize their addiction to be a symptom of what is behind the drug or alcohol use.  It was in Italy where she met with Vincenzo Muccioli, founder of San Patrignano, one of the world's leading drug rehabilitation centres. She asked him how she too could make Vitanova a world-class centre. Muccioli, who passed away in 1995, asked her, 'how do you love these people you take in?' Franca immediately responded, 'I love them right next to my own children.' Muccioli turned to her and said, 'You have to extend the love you have for your children and then you'll make it,' recalls Franca. She asked her five children how she could possibly do this, and her eldest responded, 'Mom, your heart is big enough, there's room for them, too."
Today, Vitanova offers a full-time day program and a shelter with 30 beds. Its core program is funded by the Ontario Ministry of Health and Long-Term Care; the shelter survives off donations. Aware of the stigma attached to substance abuse, Franca can only hope that the community looks beyond donating to typical causes so that her centre can treat more clients. "Our key to success is that we don't just give counselling, we do a full-time program for as long as the individual needs.
We don't just work with the drug addiction, we work with the entire human being and we work with his or her family. We try to bring the family back together again," says Franca. Currently, there are 80 clients receiving treatment from Vitanova, and Franca needs to help more. "I can feel their pain, I carry that pain, I take it home with me. I want a solution. I want that pain to end and for them to start a normal life and take charge of their emotions." I look to Franca and ask her why she's dedicated her life to this mission, why she has yet to retire at age 76. She speaks low but her words are loud. "Some people say that I'm either making a lot of money or that I'm crazy and they ask, 'why do I do it?' And my response is, why don't you?"
When Franca was a young girl, pain accompanied her every step. She was born into a wealthy family in 1935 until communism occupied the then-Italian city of Zara (now Zadar, Croatia) she lived in. She endured the death of her father, a noble, and lived long days in concentration and refugee camps. Her childhood turned her into the caregiver she is today. "I don't need an elaborate life like the one I was born in. Or maybe because I was born in an elaborate life and lived in a castle before the Communists took it, maybe because I had everything and I realized that when my father died he didn't take anything with him and he left nothing for us because the Communists took everything." Though the scars of that experience continue to haunt her, she is a fond believer in forgiveness, a teaching of Catholicism.
Religion has and continues to play a critical role in Franca's life. But you don't have to be of a particular faith to discover greener pastures at Vitanova, you simply just have to believe. "When clients come here they live with love, they are amazed when they are here. They don't understand what's come over them. After two or three days they ask, what's happening to me? I feel safe. I believe there is something here that I can't even explain."
To donate or volunteer, go to www.vitanova.ca
Join the Vitanova Foundation on November 27th, 2011 for its annual fundraising gala, Celebration of Life.