Andre Agassi: BREAK, FAULT, LOVE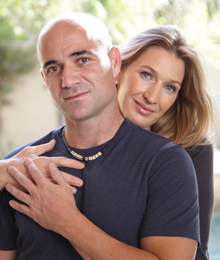 At his last Wimbledon appearance in 2006, the same tournament that embraced him with his first Grand Slam win, he stepped onto the sacred grounds of the All England Club wearing a necklace given to him by his son, a choker of block letters spelling 'Daddy Rocks.' He certainly did cause seismic effect in his young days, juxtaposing the very essence of tennis refinement by sporting hot lava tights, denim shorts and mullet toupees. During that tumultuous period of his life, however, he was just a boy, tormented by his hate for the lonely sport of tennis; a man-child choked by his unfound identity while finding his volleys and fine-tuning his backhand. Long before his departure from the game, the American athlete did break free from breaking convention with the clothes his enthusiasts often imitated; with John Varvatos and the sentimental accessory that spheres his neck now part of his signature look. He didn't know then who he was as he took centre court, but the sport and his devotees certainly recognized him as a world-class competitor that defined the difference between winner-of-the-match and enduring champion. His fans, then and now, have reason to be wistful these days, because this is the Summer of Andre.
Five years into his retirement, Agassi is now officially part of tennis history, having been inducted into the Tennis Hall of Fame and the Rogers Cup Hall of Fame in July 2011. "I fell in love with tennis far too late in my life, but the reason that I have everything that I hold dear is because of how much tennis has loved me back," said Agassi during his induction ceremony speech in Newport, Rhode Island. "I've grown up in front of you. You've seen my highs, my lows, I didn't always live carefully. I didn't always pay tennis the respect it deserved," continued the 41-year-old, who met his wife, German tennis legend and fellow Hall of Famer Steffi Graff, at a tournament. The couple shares two children, Jaden Gil, 9, and Jaz Elle, 7.
The famous face of tennis will also be one of four tennis greats to take part in the inaugural Rogers Legends Cup this August at the Rexall Centre. He will be joined by former peers John McEnroe, Michael Chang and Jim Courier. "It's a great way to stay connected with people I spent a lot of time with over the years and come up there to Toronto and be able to sort of play, hopefully well enough, to create a little nostalgia," said Agassi in a recent news conference. "Everything about the Canadian Open [now the Rogers Cup] fit my game. I love the surface, I love the court speed," said Agassi, who in 14 visits to Canada won three titles. "Agassi is still one of the top drawing players in the world, even though he is retired," says Karl Hale, the tournament director for the Rogers Cup in Toronto. "Our fans really wanted to see him … the feedback has been absolutely tremendous … ticket sales have gotten much better than in 2009 when we had the women here last." A former player and coach, Hale caught his first glimpse of Agassi when he participated in the same tournament as him decades ago. "He was the young up-and-coming star that everyone was watching and looking out for. Even back then, everybody knew he would be something special, which obviously he turned out to be." This year, Canadian tennis breaks ground as a combined televised event, with the ladies tournament in Toronto and the men's tournament at Montreal's Uniprix Stadium to be aired simultaneously.
Lovers of the sport still can't shake just how right it felt when Agassi recaptured the glory of his No. 1 days in 2003 as the world's oldest (33 years old) top ranked seed. Nor can they fail to overlook the highlights of a glorious career that continues to be remembered by die-hards and gives budding players a forum to study upon. "I watched many, many of his matches and he was very inspirational to me," says Canadian Milos Raonic, the nation's first to reach a career-high rank of No. 25. The 20-year-old sensation from Thornhill, Ont. won't be participating in this year's Rogers Cup due to hip surgery to correct an on-court injury, but remains encouraged when I tell him how Agassi, who underwent wrist surgery and suffered from sciatica during his career, recently praised his game by telling me that he has, "Everything it takes to be at the top of the world." A flattered Raonic reciprocates the feeling. "I really appreciate him saying such kind things about my game, especially someone of his stature that played some great tennis and won so many Grand Slams and achieved so many great things in tennis. It's motivating – it makes me want to get on the floor and want to do the right work to get better and to achieve those levels and hopefully be as good as he thinks I can be. I think it's something special when you hear these kind of great comments from the guys you watched and you grew up hoping to be like so much." Raonic also reminisces about Agassi's legendary battles with arch-nemesis Pete Sampras, American greats that sparked the sport with the energy of competition. Today's tennis has Switzerland's Roger Federer and Spain's Rafael (Rafa) Nadal as their replacements, with Hale paralleling Agassi's aggressive baseline style, strong service return and flair to the latter. Who can forget the final of the U.S. Open in 2002 – the final final between one of the most intense rivalries in tennis history. Sampras is one side of the grid, geared to thrash his classic serve. Agassi leans forward with a tightly strung Prince, the baseline genius ready to scorch through his opponent's most deadly weapon. Fans grip their seats at Arthur Ashe Stadium, eager for a fifth set, to take the game's best server against the game's best service returner to a battle past midnight, one last time. A final win for a retiring Sampras leaves an era of golden men's tennis not seen since the days of Bjorn Borg-John McEnroe-Jimmy Connors to the history books.
With his own story to tell, Agassi revealed the pendulum of emotion he endured while swaying from rock bottom – his 1995 loss to Sampras at the U.S. Open was his hardest psychological hit – to his victorious culmination in perhaps one of the best sports autobiographies around, Open (Random House of Canada Limited, 2009). With the help of Pulitzer Prize winner J.R. Moehringer, Agassi pens shocking personal confessions, such as his loveless marriage to actress Brooke Shields and lying to tennis officials about his use of crystal meth. The book moves like an all-court player, with Agassi's painstaking photographic memory detailing his swift return to the top in 1995, the year he proclaims to be the 'Summer of Revenge,' after falling from No. 1 to No. 141 and reading rancorous remarks from Boris Becker in the newspaper.
Hailing from a city where anything is possible, the native of Las Vegas struggled with self-induced angst and a devotion to perfectionism before he acknowledged his potential. Turning pro at 16, Agassi was a natural since his infant days, swatting tennis balls in his crib with a paddle his father taped to his hands. Determined to shape his youngest child into a No. 1 tennis champ, the elder Agassi had his seven-year-old son working on his game on a tennis court in the family backyard with a terrifying ball machine Agassi nicknamed the 'dragon.' He rebelled before he rose, especially when he was sent away to a famed tennis academy he describes "a prison," at age 13. While his tennis tightened, his marks tumbled, and he dropped out of school with an eighth grade education. He wanted to quit tennis right from the beginning, but as most reluctant heroes, came undone with thoughts of the bigger picture, acute to the idea that there was a reason for him to stay committed to the sport, to become a legend. "… Something in my gut, some deep unseen muscle, won't let me," writes Agassi in the first chapter of his book. "I hate tennis, hate it with all my heart, and still I keep playing, keep hitting all morning, and all afternoon, because I have no choice. No matter how much I want to stop, I don't. I keep begging myself to stop, and I keep playing, and this gap, this contradiction between what I want to do and what I actually do, feels like the core of my life." Before winning the Australian Open in 1995, a now-bald Agassi had his hair shaved off – a cathartic release of his personal demons.
As stirring as his career might have been, the unstrung hero of tennis is now considered one of the greatest philanthropists in sports. Instead of cashing in on his prize money and endorsement deal cheques to blend into the landscape of a city shaking with excitement, Agassi chose to give back what tennis gave him by providing a platform of edification for kids to realize their own potential. Receiving the ATP Arthur Ashe Humanitarian Award in 1995 for his efforts in helping disadvantaged youths was just the beginning. He went on to establish the Andre Agassi Charitable Foundation in 1994, which has raised millions for at-risk youths in southern Nevada. The man who once reinvented the game of tennis in the 90s now attempts to reform the American school system, debuting a much-needed charter school called the Andre Agassi College Preparatory Academy in the suburbs of Las Vegas in 2001.The school is a model of hope, and Agassi wants 75 more schools just like it in the near future. "I think it's important to all of us, it's our future … Personally, I found my feeling, a powerful void of lack of education in my life … I felt very overmatched, I felt very overwhelmed by the cultures, travelling the world. I was lucky to fall back on tennis. I really looked at my life and, where would I be if it wasn't for tennis. Unfortunately, so many children don't have the opportunity of falling back as a professional athlete, it's very rare that that achievement happens. So where do these kids end up? … We are failing to educate them; it's a huge consequence for society," says Agassi, who dedicates about 70 to 80 per cent of his time towards the school. Before thanking the sport that has given him everything – his wife and kids and the meaning of life – Agassi's efforts in affecting change were addressed by a sprightly Simone Ruffin, the first valedictorian at Agassi Prep, referring to him as a 'hometown hero' before introducing Agassi to the crowd at the Tennis Hall of Fame induction ceremony. A legend off and on the court, Agassi went on to explain that, "Tennis is a lonely sport, probably the most lonely. You're out there with no team, no coach and no place to hide. That's why tennis players not only talk to themselves, but answer. And yet all that loneliness eventually teaches you to stand alone." His role model is Nelson Mandela.
Agassi is the first man to capture four Grand Slams and an Olympic gold medal. His wins include Wimbledon, 1992, the U.S. Open, 1994 (he was unseeded at the time), the Australian Open, 1995 (his best year); the French Open, 1999, where he captured the crowd at Roland Garros after a heated five-setter against a determined Andrei Medvedev. His Olympic win, which gives him a Career Golden Slam, came in 1996. "I was flattered with every win, I was surprised with almost all my wins, whether they be a match or tournament, so again, I always felt tennis and winning at this sport was a bi-product of doing a lot of things right," says Agassi about his method of approach to preparing for Rogers Cup and other major tournaments.  In total, Agassi attained eight Grand Slam singles championships and 17 ATP Master Series tournament wins. But when you ask Agassi to single out an achievement, the athlete measures his success not with the weight of his trophies but with lifting a psychological and physical dumbbell that pushed his endurance to the peak of glory. "I wouldn't cite one tournament, one trophy or one medal. I'd say I am most proud of the fact that I worked the hardest I could have worked … I didn't take shortcuts," he wrote in an email interview in 2008.
During his 2006 curtain call tournament in The City That Never Sleeps – fitting for an athlete that dreamed while awake – his expressive eyes revealed something lacking in the arena of sport: the human element. The former enfant terrible of tennis delivered an endearing speech, bow and signature double-handed kiss to the four corners of the world, for his fans and the game that parented his adolescence. The Hall of Famer is now all grown up. "It's no accident that tennis uses the language of life: service, advantage, break, fault, love; the lessons of tennis are the lessons of maturity."
For Rogers Cup Presented by National Bank schedule and tickets, go to www.lovemeansnothing.ca