In the Moment with Laura Di Battista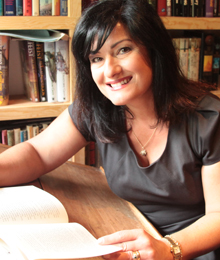 When she's not keeping Torontonians in on the news, Laura Di Battista has her own story to tell, one that involves how she loves her city well. "There's a few places that you can look at in Toronto where you just see nothing and then the horizon. It's just so calming," says the life-long resident of the Beaches area, where she lives with her husband and daughter.
The Toronto-born journalist is most known for making waves as an on-air personality, asking the questions we all want the answers to, without having the courage to ask them ourselves.
It's mid-morning and Di Battista scans the dailies, sweats out a workout and dives into research before going live at 3 p.m. "The best part of my job is that I leave here every day …  and get to, you know, explore all these great stories in the city." As host of CBC's popular afternoon drive program Here and Now, Di Battista accompanies drivers home with fresh takes on local and world news.
A famous face on the Toronto scene, she, along with other renowned personalities, was a casualty to the cuts Rogers Communications Inc. made to Citytv last year, where she spent 26 years of her career. "Someone gave me some really good advice after I was let go and it was, 'you know, there's a reason someone wanted you in the first place, and that, they can never take away from you, and someone else will want that, too.'" Ever the optimistic, Di Battista was determined to move forward. Her aggressive networking landed her the radio gig at CBC this year. When she's off the clock at 6 p.m., she explores her passions: reading, gardening, travelling and cooking her favourite meal of risotto with porcini mushrooms for her family.
When she's not doing what she does best, Di Battista enjoys the best of Toronto, like shopping at Yoka and dining at her favourite restaurants Vivetha and Green Dragon. "Not only do we have great neighbourhoods, we have people who are really passionate about their neighbourhood, and I think also our diversity and our tolerance for each other is really special."
www.cbc.ca/hereandnowtoronto