BodyBare Laser, Skin and Wellness Clinic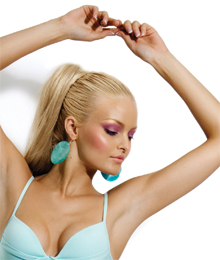 While modern skin care clinics present a selection of rejuvenation and beautifying treatments, many overlook the benefits traditional wellness techniques can deliver. Specializing in hair removal for men and women, BodyBare Laser, Skin and Wellness Clinic not only offers revitalizing skin-care treatments that combat aging, but combines those therapies with comforting, conventional wellness practices to soothe the body and soul.
"Our priority is to make clientele look and feel good; to give them the confidence to really bare it all," says owner Dina Martins. "We focus on de-stressing and revitalizing, not just your body, but also your mind, and we achieve that through unparalleled customer service."
A fusion of cosmetic and medical esthetics as well as wellness treatments, BodyBare utilizes today's familiar beautifying procedures, like Botox, microdermabrasion and chemical peels, as well as massage therapy, waxing and makeup artistry, to enhance the features that clients already have.
"We offer manicures and pedicures, however we take it one step further. We can take the traditional manicure and boost it to a Micro-Mani, which targets sun-damaged, crepey skin, taking 10 years off. Or try our Pedi-Peel, which is fantastic for cracked, super dry, callused heels. Your hands and feet will love you for it," says the 15-year industry veteran, who adds that BodyBare's gender-neutral approach has attracted regular male clients as well.
For a limited time, BodyBare is offering 25 per cent off all laser services, adding further incentive to its already alluring boutique. For a full-service list, be sure to visit BodyBare's website.
www.bodybarelaser.ca
905.553.0022