Vivian Risi: Aiming Higher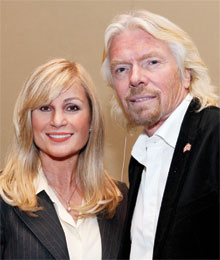 Inside every individual lies the hope to soar to new heights and fulfill unrealized potential. With arms outstretched, we anticipate the strength to conquer the obstacles that cloud our vision and welcome the materialization of our aspirations. While there are pinnacles that may seem beyond our reach, there are those who can turn the impossible into possible.
Society's most vulnerable now have a second chance at redemption because of Vivian Risi, owner and founder of real estate firm Royal LePage – Your Community Realty. As chair of Yellow Brick House (YBH)'s Second Shelter, Second Chances capital campaign, Risi's tireless efforts to house abused women and children have finally paved the way to a much-needed second shelter in York Region, where up until now, there have been no services for abuse victims.
Realizing that women and children have nowhere to run from perilous environments, Risi knew that something must be done. "A house is not a home unless it's safe," says Risi, a YMCA Peace Medallion Recipient.
At a The Power Within Toronto speaker forum event, Risi met with a transformational leader who is also revolutionizing the future for others. As millennium icon Sir Richard Branson's spaceflight company Virgin Galactic will soon send passengers to suborbital space, Risi's advocacy has women and children over the moon. "He has no barriers or restrictions as to what he can do or where he can go. He has great vision," says Risi, who has successfully raised three quarters of the capital campaign's goal of $4 million, which includes the costs of constructing, purchasing, building and furnishing a crisis shelter.  "We're almost at the finish line," says Risi, who hopes for a third shelter once the goal is fulfilled. "I remain focused on my vision and do not allow obstacles to get in my way."
A leader who reaches for the stars without hesitation, she quickly scrolls through her Blackberry calendar to see when she's available to book her trip to the Earth's natural satellite.
With her feet planted firmly on land for now, Risi takes comfort in helping to rebuild lives for women and children who have little options but to remain in abusive situations. A beacon of light in the dark world of abuse, the second shelter will accommodate 24 individuals by early 2011.
YBH provides protection and counseling services for battered women and their children to help them regain confidence while on the road to rebuilding their lives. This enables them the strength, guidance and tools to begin a violence-free life.  According to YBH representatives, 4,000 lonely, fearful, and displaced women and children received emergency shelter and outreach services from YBH in 2008, yet 547 women and children were turned away due to lack of space. Sadly, most of these women return to their abusive relationship until space becomes available. With seven per cent of Canadian women assaulted by their spouses every year – a person they love and trust the most – Risi remains steadfast in safeguarding a sturdy foundation full of opportunity and peace for abuse sufferers. "As long as women and children are valued less and subjected to violence in the home, the potential for the family to create a peaceful, prosperous society will not be realized," she says.
Executing a stellar performance over the years that has led to a constellation of 11 successful offices in southern Ontario and over 700 realtors, Risi knows that a house is not a home without love, respect and the undeniable right we all have to a bright future. "I will continue to stand up for those who are most vulnerable – women and children."
To learn more on Yellow Brick House, go to www.yellowbrickhouse.org or call 905.709.0900
www.yourcommunityrealty.com
Industry innovator Vivian Risi is a Broker of Record and the Founder of Royal LePage – Your Community Realty, Canada's No. 1 Brokerage. Her expertise in market trends, mortgages and real estate management spans over 30 years. To contact Risi or one of her realtors with your questions or to locate the nearest Royal LePage – Your Community Realty, visit www.yourcommunityrealty.com 1.888.9LEPAGE(53-7243) For more real estate information, follow Vivian Risi on Facebook and Twitter, or go to her website and send her a question under "Ask Vivian." www.facebook.com/royallepageyourcommunityrealty, www.twitter.com/VivianRisi

CORRECTION

In the April/May issue of City Life Magazine, an article on Vivian Risi and the Yellow Brick House titled "Aiming Higher" misstated York Region to be the location as to where there have been no abuse shelters for women and children up until now, when in fact, it is specifically the town of Markham in York Region. York Region currently offers three shelters that assist abused women and children. Apart from Yellow Brick House, ETA Vaughan (Empowerment Through Achievement) Women's Shelter, and Sandgate Women's Shelter of York Region, are committed to sheltering, counselling and supporting women and children of abuse. A shelter alerted City Life to the error on April 21, 2011.