Lounging at LaPlaya, Nestle up to Naples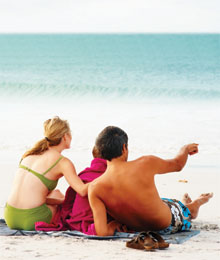 Imagine yourself sprawled by the oceanside, sipping on an icy margarita while the warm sun beats down on your skin. Miles away from your troubles, the only sound you hear is the spellbinding waves that crash against a pristine shore. The best part? You're much closer to home than you'd think.
Nestled in the heart of Naples, Florida, rests the gorgeous LaPlaya Beach and Golf Resort. With an inspired landscape and inviting suites, this hidden gem gives its guests the secluded, far-off feel of an island oasis with all the comforts and amenities of a familiar five-star resort.
Reflecting the contemporary lifestyle and easygoing attitude of South Florida, the ambiance of LaPlaya makes guests feel instantly at home. An updated twist to Florida's classic Old World style, the resort's décor is elegant yet comfortable. This casual elegance is echoed in all of the property's 189 rooms and suites, with a tasteful blend of wrought-iron furnishings, luxurious fabrics and cheery colours. Unique works of art – not to mention spectacular views of the ocean – create the ideal atmosphere for a beachfront vacation.
A place where families relish in exciting activities and couples stroll hand in hand against a picturesque background of swaying palm trees and a glowing horizon, LaPlaya is an ideal getaway, sure to satisfy all kinds of travelers. So whether you're looking for relaxation or a little adventure, LaPlaya Beach & Golf Resort delivers. Safe and quiet surroundings melt your worries away, while exciting outdoor activities quench your thirst for adventure.
A recognized golf resort, LaPlaya's 18-hole championship golf course is designed by renowned architect Bob Cupp and satisfies every golf enthusiast's wildest dreams. Guests craving a little excitement often find themselves exploring the neighbouring regions of this charming town to visit local shops, museums, art galleries and attractions, go sailing or simply soak in the history and culture.
One such spot, known as Florida's Paradise Coast, is a delightful town designed to deliver the essence of this eclectic state's tastes, cultures, and captivating waterfront environments. There are any number of other places to visit, from Fort Myers to the Florida Everglades, offering miles of beach and natural surroundings to explore.
If action-packed adventure isn't your cup of tea, retreat to the ultra-exotic SpaTerre, where expert estheticians make your comfort their top priority. Rejuvenating mind, body and soul, the boutique spa takes guests on a stimulating sensory journey. Decorated with charming décor features, this elegant sanctuary showcases white wainscoting, 1920s-era brick tile and porcelain fixtures juxtaposed with Asian-inspired furniture. Whisking visitors away from the outside world, this unique experience begins with an intimate spa massage tailored to each individual guest. With holistic rituals and traditional outdoor Japanese Relaxation Tubs, SpaTerre promotes a combination of health, peace and relaxation through its decadent treatments, leaving you exhilarated and refreshed. Offering guests the comfort of personal rooms with private balconies and in-room showers, SpaTerre accommodates just about any whim.
After a long day, there's nothing quite like the savoury comforts of Baleen, LaPlaya's signature restaurant. The unique waterfront dining room features a whimsical monkey motif that lends a lighthearted air to its candle-lit elegance, marvelous views and gourmet fare. This fine eatery blends the fresh tastes of land and sea, artfully infused with regional flavours to create a palate-pleasing dining experience. Whether seated in an indoor enclave or a barefoot beach table, happy diners feast on dishes like seared Asian-spiced tuna served with tempura scallions and honey wasabi or roasted natural chicken with goat cheese dumplings, wild mushrooms and tomatoes.
With such romantic air, it's not surprising that LaPlaya is the venue for dozens of destination weddings every year. Countless couples have said "I do" on Naples' sandy white shore, while a glowing Florida sun sets over the sparkling waters of the Gulf of Mexico. Complete wedding packages take care of all the details, from the ceremony arrangements right down to the place settings, so that the bride and groom can focus on cherishing every second of their fairytale nuptials.
A quiet escape bursting with charm, LaPlaya Beach and Golf Resort is a place where dreams are awakened, memories are made, and bonds are strengthened. Offering something for everyone, it's the perfect setting for a lovely lover's jaunt, a fun-filled family retreat or an invigorating golf getaway.
www.laplayaresort.com
239.597.3123
Important Tips for Traveling.
With the recent airport security enhancements, travelers are justifiably confused about how to travel safely. Here are some tips to help you survive the airport unscathed.
• The temporary restriction of carry-on bags on flights to the United States resulting from the December 25, 2009 security incident was removed on January 20, 2010. Travelers are now permitted one carry-on bag in all Canadian airports as long as they do not exceed a size of 23 cm x 40 cm x 55 cm. In addition to the small carry-on bag, travelers may also bring one of the following: a small purse, laptop or camera bag.
• Canadian Air Transport Security Authority provides travelers with a complete list of updated security guidelines.
• When travelling domestically, try to abide by the weight restrictions on your carry-on baggage. Travellers are permitted one personal article (purse) and one standard article (roller bag) – each 22 pounds or less. It saves you the time and embarrassment of having to open and rearrange you bags in the middle of a busy airport.
• Pet carriers not exceeding 55 cm x 40 cm x 23 cm and a maximum weight of 22 pounds, animal included, are allowed on board. Pets are not permitted in Executive First Class, due to cabin configuration.
• If you bring liquids onboard a domestic flight, ensure that they are 100 millilitres or less, enclosed in clear plastic baggies.
• Wear comfortable footwear. Security requests that you remove your shoes before passing through, so fancy stilettos with zippers and laces might not be the best choice.
• And, most importantly, try to look your best … you never know who you'll meet upon arrival!
www.catsa-acsta.gc.ca
www.aircanada.com