Mideastro: Spice up your taste buds with the latest fusion restaurant.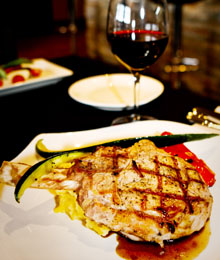 There's something about Mideastro – it's air thick with culture and elegance, it's atmosphere saturated with downtown cool. Tucked away on a quiet street just north of Toronto, every visitor is whisked away on a romantic Italian journey, floated through the Mediterranean Sea and landed on the eastern shores of Israel. A place where East meets West, Mideastro isn't your proverbial restaurant but an opportunity to delve into the mysterious and complex twists and tastes of flavours hailing from influential world-class cuisines, which bubble and melt like a dream on your palate.
A powerhouse when it comes to offering the local dining scene something a little more than the ordinary, Mideastro flexes with versatility. Its subdued décor of flickering candles soothes you, the syncopation of classical jazz from a live band on the weekends entertains you, and the inescapable scent of fabulous dishes created by head chef Angelo Racioppo and sous-chef Avi Yonapan satiate you. "It's quite amazing," says Racioppo on fusing Italian cuisine and fine red wines with Israeli touches. "It gives me a lot more to play with," he says, as he presents grilled jumbo shrimps marinated with chili-smoked paprika, garlic and saffron, and an off-the-cuff dish of fig stuffed with warm gorgonzola cheese.
Founded by first-time restaurateur Leon Goldnshtain, 31, Mideastro reflects the culinary ingenuity of a Toronto resto-lounge and the über-sophistication of a New York piano bar – without the hefty price tag. Born in Israel and raised in South Africa, Goldnshtain hobnobbed with the best of the best at eateries across Europe. "I've lived in many countries and I've travelled a lot – so I know what good service and good food is," explains Goldnshtain. I don't cut any corners – all of our vegetables arrive fresh every day and our meat and fish come from the most reputable of suppliers." www.mideastro.com
1200 Hwy 7 West, Thornhill, Ont.
For reservations, catering services or hosting your event, call 905.889.0060