Milk, eggs, bread … beer? Under an Ontario Progressive Conservative government, six-packs, 26ers and bottles of red could be lining shelves next to the essentials provincewide. Ontario PC leader Tim Hudak has made it clear, if elected, he has no plans to be involved in the booze business. "Let's let the private sector into the alcohol business, let's have some more competition," he said to reporters back in December.
"It's time to end the LCBO and Beer Store monopolies."
Easier access to alcohol is certainly enticing for consumers who enjoy the odd drink. But what would having alcohol in grocery and convenience stores mean for the province? Furthermore, will it even happen?
For Dave Bryans, CEO of the Ontario Convenience Stores Association (OCSA), such reform would meet consumer demand for convenience. "This is an archaic alcohol control system," he says of the LCBO and Beer Store, both established in 1927. "We live in a more mature, quicker moving society that expects convenience." According to Bryans, Ontario is dragging its feet and needs to keep pace with other provinces, like British Columbia, Alberta and Quebec, which all have partially or fully privatized systems. This past July, a petition containing more than 112,000 signatures calling for alcohol to be sold in convenience stores was presented by the OCSA to the Ontario government, bolstering Bryans' position. "These are voters," he says, "Liberals, NDPs and Conservatives standing in line at convenience stores saying we want you to carry our voice to Queen's Park and help us."
Read more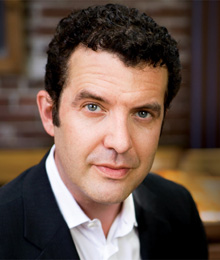 Rick Mercer is an enigma. This might not seem apparent through his playful on-air antics, but behind all the cheeky banter, commercial parodies and in-your-face ranting, there's more to this unadulterated Canadian than meets the eye. It's a lesson I learned early on during our midday sit-down at Allen's in Toronto, one that shines a light on a side of this political satirist that's rarely captured by cameras.
It's Mercer's choice, Allen's, and an excellent one at that. The Irish-American pub on Danforth Avenue, known for its à la carte burger and willow tree-shaded patio, gives a nod to the Emerald Isles via a bar lined wall-to-wall with a generous selection of spirits. Where better to interview a good ole islander like Mercer?
He mentions he likes to pop by for the odd Guinness, but he's ordered an ice water — he's a professional, after all. And, as it turns Read more